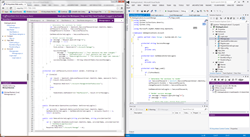 A powerful and modern solution for teams that increases productivity and agility by giving team members real-time collaboration tools. - Mitra Azizirad, Microsoft's GM of Developer Tools, Marketing and Sales
Redmond, WA (PRWEB) February 27, 2014
VS Anywhere Inc., a Visual Studio Industry Premier Partner and providers of the only fully integrated Microsoft Visual Studio extension that lets teams collaborate live together in Visual Studio projects, has released a powerful new feature, the Web Workspace, which is designed to resolve common scenarios faced by development teams.
To its suite of collaboration-minded and efficiency-boosting features – including simultaneous file editing, live interactive code reviews and virtual pair programming – the VS Anywhere team has added an easy project sharing feature that works on any device or desktop. Web Workspace enables developers to participate in clear and cohesive side-by-side, collaborative sessions, whether they are in the same office or on two different continents.
"Web Workspace is a seamless multi-device cloud app designed to give developers fast access to their entire team – even when they're working outside of a perfectly configured development environment or don't have access to a Visual Studio," says VS Anywhere CEO Jesús Salas. "It reduces team communication and language challenges, enables immediate collaboration from anywhere at any time, increases technical stakeholders control and visibility and speeds up the ALM cycle by enabling short, on-demand reviews. Web Workspace improves team cohesion and boosts efficiency."
VS Anywhere team spends a lot of time listening to the challenges of everyone involved in the software development equation – from coders to architects to project managers to outsourcing directors. They base new features on the common needs of their current user base of more than 5000 developers from hundreds of companies, so they are certain that anything they build into the product will be heavily used.
Mitra Azizirad, Microsoft's GM of Developer Tools, Marketing and Sales, calls VS Anywhere "a powerful and modern solution for teams that increases productivity and agility by giving team members real-time collaboration tools."
The addition of Web Workspace to the VS Anywhere feature set increases its collaborative power and extends it benefits to development teams by enabling:
Effective communication. Code-based visual communication reduces dependence on verbal language. Teams collaborate right inside the IDE, using context-aware cursors to demonstrate fixes and share best practices.
Better software quality. Teams can quickly resolve bugs and vulnerabilities using real-time collaborative code reviews and virtual pair programming.
Efficient workflows. Teams work together live in synced projects on demand so there is no waiting, errors get spotted and resolved immediately and code stays up to date across projects for all participants.
Improved knowledge transfer. Internal teams easily share knowledge with outsourced teams, new hires get on boarded faster and everyone gets direct access to knowledge experts in the organization.
VS Anywhere products supports Visual Studio 2010, 2012 and 2013 and additionally offers tight integration with Team Foundation Server and Visual Studio Online from Microsoft.
About VS Anywhere
VS Anywhere is the only fully integrated Visual Studio extension that activates a real-time collaboration platform inside the ALM, allowing teams to write code together, live. It is packed with collaborative editing and communication features that create high-performance local and distributed software development teams.
More than 5000 users from hundreds of companies count on VS Anywhere to increase team productivity, speed delivery times, minimize errors, optimize knowledge transfer, improve hiring & training processes and help teams work cohesively, regardless of the miles, languages, and coding styles between them.
VS Anywhere is available in cloud and on-premises versions and is also available at the Windows Azure Store (Add-Ons/Store).
To learn more about VS Anywhere, visit vsanywhere.com.
Watch a VS Anywhere intro video or a Web Workspace video, or visit the VS Anywhere Windows Azure Store page for more information.