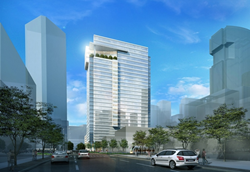 6 Houston Center represents everything Houston's premier companies need to meet their office space needs in recruiting and retaining top talent, including outstanding location, amenities, sponsorship and design.
Houston, Texas (PRWEB) February 27, 2014
Crescent Real Estate Holdings LLC announced the development of 6 Houston Center, a new Class AA office building to be located in the vibrant east side of Houston's central business district.
With the Houston Class AA occupancy rate more than 96%, demand for premier space and exceptional service are at an all-time high. Crescent, with its proven track record of ownership and development at Houston Center, Post Oak Central and Greenway Plaza, will deliver an exceptional product that meets the competitive needs of Houston's leading companies. Crescent is committed to providing exceptional customer service and has been recognized nine times with the prestigious National Commercial Real Estate Customer Service Award for Excellence, or the "A List" Award, from CEL & Associates, Inc.
Crescent expects to secure building permits and select a general contractor in March 2014 and anticipates breaking ground by mid-summer 2014.
The elegant and contemporary 30-story, 600,000-square foot 6 Houston Center was designed by HKS Architects and represents the new evolution in commercial office space. The pre-certified LEED Gold building includes all the features and amenities companies have come to expect in appealing to a discerning workforce.
6 Houston Center achieves the best use of space through highly efficient floor plates while offering 10' ceiling heights and 12' ceiling heights on upper level floors. The 10th floor will be a concierge floor and will offer a rooftop garden, fitness center and conference center exclusive to building customers. The building will also feature a coffee bar, customer lounge and secure bike storage. A 15' tall glass skybridge provides an inviting connection to 1 Houston Center. Destination elevators deliver a vastly improved rider experience with passengers grouped by desired floor. A 9-level garage (1 below grade) offers a superior parking ratio of 1.7 per 1,000 square foot.
"Houston is one of the strongest office markets in the country, and the time is right to launch this exciting new project. 6 Houston Center represents everything Houston's premier companies need to meet their office space needs in recruiting and retaining top talent, including outstanding location, amenities, sponsorship and design. Crescent has a successful 20-year history of investing in Houston, and we expect 6 Houston Center to build on that strong foundation," said John C. Goff, chairman and chief executive officer, Crescent Real Estate Holdings LLC, and Lake Jackson, Texas native. Goff co-founded Crescent Real Estate Equities with Richard Rainwater in the early 1990s, took it public in 1994, sold in 2007 to Morgan Stanley, and reacquired the company with Barclays Capital in 2009.
6 Houston Center will be located on Block 95 in the highly desirable east side of the central business district, across from 1 Houston Center/LyondellBasell Tower. This amenity-rich area of downtown Houston is within immediate walking distance to the Four Seasons, Hilton Americas and planned Marriott Marquis hotels; The Shops at Houston Center and GreenStreet retail destinations; and top restaurants The Grove, Vic & Anthony's Steakhouse, McCormick & Schmick's, Mia Bella Trattoria and Guadalajara Del Centro among others.
The building, which is bounded by Rusk, Caroline, Walker and San Jacinto streets, embraces the new east/west Light Rail alignment, with a 35-foot tall lobby facing Rusk Street. In addition, there are convenient METRO Bus and Greenlink connections for commuters.
Crescent has awarded the leasing assignment for 6 Houston Center to Jones Lang LaSalle and Senior Vice President Chrissy Wilson will head the assignment.
According to Wilson, "Jones Lang LaSalle is delighted to be working with Crescent on their next Class AA building in the central business district. Their reputation for high-quality product and customer service is second to none and will make 6 Houston Center an absolute success and top-of-the list choice for companies."
About Jones Lang LaSalle
Jones Lang LaSalle is a professional services and investment management firm offering specialized real estate services to clients seeking increased value by owning, occupying and investing in real estate. With annual revenue of $3.9 billion, Jones Lang LaSalle operates in 70 countries from more than 1,000 locations worldwide. On behalf of its clients, the firm provides management and real estate outsourcing services to a property portfolio of 2.6 billion square feet and completed $63 billion in sales, acquisitions and finance transactions in 2012. Its investment management business, LaSalle Investment Management, has $46.7 billion of real estate assets under management. For further information, visit http://www.jll.com.
About Crescent
Crescent Real Estate Holdings LLC, headquartered in Fort Worth, Texas, is a fully-integrated real estate company owned by Barclays Capital and Goff Capital. Through its subsidiaries, Crescent manages and develops premier, Class A office buildings. Crescent also holds investments in resort residential developments in locations such as Scottsdale, Vail Valley, and Lake Tahoe; a luxury hotel, The Ritz-Carlton, Dallas; and the wellness lifestyle leader, Canyon Ranch®. For more information, visit Crescent's Web site at http://www.crescent.com.
# # #