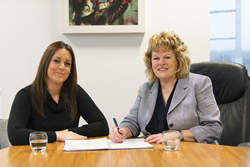 Employment boom predicted in 2014 and the construction sector has seen a 30% increase in advertised vacancies less than six months ago
(PRWEB UK) 27 February 2014
The construction sector saw a 30% increase in advertised vacancies less than six months ago, and leading experts predict an employment boom in 2014. Working in collaboration with recruitment specialists at Dynamic Services, RIFT will help workers in the construction industry receive maximum benefit from tax refund entitlements.
Dynamic Services specialises in recruiting trades and labourers, as well as technical, professional and management staff. They set out to be more than an average recruitment company, meeting the labour needs of each project from start to finish.
Dynamic is also delighted to be able to spread the word about RIFT tax refunds to their CIS and PAYE clients – letting their workers get on with the job, knowing that their tax is being taken care of.
Jan Post, RIFT Managing Director commented: "This feels like a natural next step for RIFT to take as so many of our clients speak to us about their current job and what opportunities are out there. I'm passionate about this industry and this gives both Dynamic and RIFT the chance to offer something more to the hard working people out there. I'm definitely excited about what this partnership will offer for both companies in the year ahead."
Louise Humphrey, Dynamic Managing Director, added: "We're an ambitious company, always looking to offer our clients more, so we're really excited about our partnership with RIFT and what it means for our candidates. Together, we offer all of our clients an even better service. Both Jan and I have worked hard to make each business what it is today and we're thrilled to be taking this next step together."
Visit http://www.dynamicsl.co.uk to find out more about jobs in your area, or speak to one of the team at RIFT.
About RIFT
Founded in 1999, The RIFT Group is one of the UK's leading tax refund specialists and has claimed back over £16 million in tax refunds for their clients this year. To find out more about individual tax refunds, visit http://www.riftuk.com or call 01233 628648 for a free initial assessment.