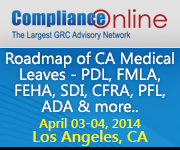 Palo Alto, CA (PRWEB) February 28, 2014
After sold-out events in San Francisco and San Diego, ComplianceOnline, the leading governance, risk and compliance advisory network with over 500 experts in various regulatory subjects, today announced that it will be conducting its popular seminar on Roadmap of California Medical Leaves - Ultimate Guide to PDL, FMLA, FEHA, SDI, CFRA, PFL, ADA and Workers Compensation and Handling Performance Management Challenges in Los Angeles, CA on April 3 and 4, 2014. Renowned labor law expert Beth Brascugli De Lima will once again be the seminar instructor, having successfully helmed the earlier events.
This seminar will help attendees clarify California specific leaves, how they interact with the Federal Medical Leaves and how to apply leaves accurately and consistently. Learn best practices for controlling medical absences and necessary actions to be taken when leave policies are violated.
Seminar instructor Beth Brascugli De Lima, M.B.A., SPHR-CA, is founder, president, and principal of HRM Consulting, Inc., a California-based human resource consulting firm. Ms. De Lima provides corporate consulting on a national basis regarding employment regulation, compliance and vocational rehabilitation. She has extensive experience in all areas of employment litigation including the Americans with Disabilities Act (ADA), Family Medical Leave Act (FMLA), and Workers' Compensation and is a recognized expert on medical leave management employment law compliance. She provides expert testimony for both the plaintiff and defense regarding human resource best practices and standards of care.
During the one and a half day interactive seminar, Ms. De Lima will provide an overview of California Medical Leaves Regulations – Pregnancy Disability Leave (PDL), California Family Rights Act (CFRA), FMLA, ADA, Fair Employment and Housing Act (FEHA) and Paid Family Leave (PFL). She will focus on how California leave related laws such as FEHA and CFRA interact with Federal medical leaves regulations such as the FMLA and ADA. Attendees will learn which leaves can run concurrently and how to document the transition from one leave type to the next. This course will teach attendees how to properly handle employee performance management. It will help the attendees understand specific situations that allow them to terminate employees for performance management issued even if protected by state or federal ADA, FMLA and Workers' Compensation regulations.
This seminar will be beneficial to employers and employees working in California and to human resource managers, financial managers, CFOs, administrators and risk managers in private and governmental agencies.
Date: Thursday, April 3 (8.30 AM- 4.30 PM) and Friday, April 4, 2014 (8.30 AM- 1.15 PM)
Location: Los Angeles, CA
Registration Cost: $799.00 per registration
Early bird discounts: For discounts on early registrations, Please visit –http://www.complianceonline.com/ecommerce/control/seminar?product_id=80086SEM&channel=PR_feb27
Register by phone: Please call our customer service specialists at +1-650-620-3937 or email to customercare(at)complianceonline(dot)com
About ComplianceOnline
ComplianceOnline is a leading provider of regulatory compliance trainings for companies and professionals in regulated industries. ComplianceOnline has successfully trained over 35,000 professionals from 9,000 companies to comply with the requirements of regulatory agencies. ComplianceOnline is headquartered in Palo Alto, California and can be reached at http://www.complianceonline.com ComplianceOnline is a MetricStream portal. MetricStream (http://www.metricstream.com) is a market leader in Enterprise-wide Governance, Risk, Compliance (GRC) and Quality Management Solutions for global corporations.
For more information please contact:
A Reuben Bernard
Manager of Program Marketing
ComplianceOnline
2600 E Bayshore Rd
Palo Alto CA USA 94303
650-620-3937 phone
650-963-2530 fax
reuben(at)complianceonline(dot)com
http://www.complianceonline.com