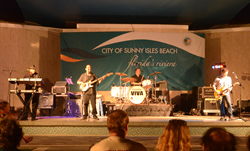 Sunny Isles Beach, FL (PRWEB) February 27, 2014
The City of Sunny Isles Beach presents VIVA, a Classic Rock and Roll Band for its next Sunny Serenade Concert Series on Wednesday, March 19 at 7:30 pm. Come to Heritage Park (19200 Collins Avenue), bring the family, bring chairs or blankets, sit on the great lawn, listen to rock and roll, sample food for sale, use the playground and relax in the sweet tropical breezes.
The Sunny Serenade Concert Series began on third Wednesdays during the season, more than a dozen years ago when the City opened its first public park. The serenade is a perfect mid-week break for busy families. There is always a theme for patrons to enjoy. The 90 minutes of music inspires people to get up and dance or, the more reserved, to tap their toes. Many people sing along with the songs they know. Sometimes the concert seems like more of a performance with specialty dances or ethnic music; however the dance floor is always open. For some children, young and old alike, the concert could be a glimpse into their parents' past and the culture of an earlier generation.
Entrance and parking to the concert are free. Parking will be available under the William Lehman Causeway and at the parking garage at Heritage Park. A special event bus will run during the event to provide patrons with convenient and complimentary transportation to and from the event.
The last Sunny Serenade Concert for this season is scheduled for Wednesday, May 21, 2014 at Heritage Park (concerts return in the fall). For a full event listing of concerts and more visit sibfl.net or contact the Cultural & Community Services Department at 305.792.1706.