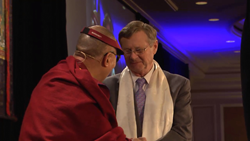 It was an honor to have the chance to witness the power of an individual who so eloquently talked about the goodness that exists in every one of us, yearning to find action and voices to express that goodness. - Dr. Bill Magee
Virginia Beach, Virginia (PRWEB) February 27, 2014
His Holiness the Dalai Lama personally recognized the Co-Founders of Operation Smile, Dr. Bill and Kathy Magee, for their humanitarian efforts during an event at the Ritz Carlton Hotel in San Francisco, California last weekend.
"The event was heartwarming. It was a room full of people who care deeply about others—it reminded us of what life is really about and how important it is that we spread passion for other people throughout the world," said Operation Smile Co-Founder, Kathy Magee. "Everyone here has given so much back to humanity, it was truly an honor to be amongst them," she added.
For more than three decades, the Magee's have been restoring smiles and renewing the hope of patients worldwide suffering from cleft lip, cleft palate and other facial deformities. The international children's medical charity has provided free surgeries to upwards of 200,000 children from more than 60 countries.
During the Unsung Heroes of Compassion 2014 luncheon, the Dalai Lama acknowledged and thanked the 51 highly compassionate individuals who work in 18 countries worldwide, and represent many ethnicities, cultures, faiths, and backgrounds. "Each honoree demonstrates the timeless and universal human goodness celebrated by every wise culture," said event organizers.
"It was an honor for Kathy and I to represent Operation Smile at the Unsung Heroes of Compassion and have the chance to witness the power of an individual who so eloquently talked about the goodness that exists in every one of us, yearning to find action and voices to express that goodness," said Dr. Bill Magee.
Dick Grace, chairman of Wisdom in Action, the organization that hosted the celebration, said the honorees were selected as representatives of the countless people around the world who work to improve communities through their personal efforts.
"We don't see them or hear about them in the daily news," Grace said. "But they exemplify a humanism and heroism to which we must each aspire.
About His Holiness the Dalai Lama and Wisdom in Action
The 14th Dalai Lama, Tenzin Gyatso, is the exiled leader of the Tibetan people and a Buddhist teacher. The 1989 recipient of the Nobel Peace Prize, the Dalai Lama is an outspoken proponent of nonviolence and compassion, and is loved and revered internationally. Wisdom in Action (WIA) is a nonprofit organization dedicated to increasing awareness of the importance of compassion in action. WIA is hosting Unsung Heroes of Compassion 2014, the fourth event of its kind since 2001, to raise awareness that it is each individual's obligation to help the disenfranchised among us and to acknowledge that each act of compassion makes an important difference to the world.
About Operation Smile
Operation Smile, headquartered in Virginia Beach, Virginia, is an international children's medical charity with a presence in more than 60 countries, whose network of more than 5,400 medical volunteers from over 80 countries is dedicated to helping improve the health and lives of children. Since its founding in 1982, Operation Smile has provided more than 200,000 free surgeries for children and young adults born with cleft lip, cleft palate and other facial deformities. To build long-term self-sufficiency in resource poor environments, Operation Smile trains doctors and local medical professionals in its partner countries so they are empowered to treat their local communities. Operation Smile also donates medical equipment, supplies and provides year-round medical treatment through its worldwide centers.