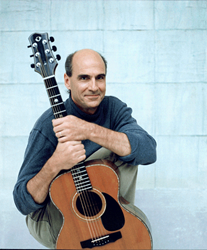 Denver, CO (PRWEB) February 28, 2014
Smooth folk-rock singer/songwriter James Taylor was discovered by the Beatles in 1968. He recorded his first album, with single "Carolina on my Mind", on their Apple label. But while this initial effort failed to chart, the solo artist scored his first hit with "Fire & Rain" two years later in 1970.
After a career spanning six decades, Taylor, now 65, is perhaps best known for his first Number One hit "You've Got A Friend", a recording of fellow artist Carole King's classic song, released with his second album Sweet Baby James, the following year in 1971.
Today, Taylor is back on tour with his 2014 North American Summer Tour – "James Taylor and His All-Star Band". It is a 32-date trek that hits 30 cities across 22 states in North America, and opens at the Moda Center at the Rose Quarter in Portland, Oregon on May 30, 2014. The U.S. wrap is currently set for the Verizon wireless Amphitheatre at Encore Park in Alpharetta, Georgia on August 5, 2014.
"With over three generations of fans, James Taylor tickets are trending at the top of concert queues across the country," said Marta Ault at online ticket marketplace BuyAnySeat.com.
"That's why we're proud to offer fans the most comprehensive and continuously refreshed listing of concert tickets online, with a worry-free guarantee to protect their purchase," added Ault.
"To shop all of the James Taylor tickets now available, fans can go to BuyAnySeat.com and search for James Taylor – then select their tickets."
After opening in Portland, the singer's tour hits Seattle, Concord, Santa Barbara, L.A., Phoenix, Albuquerque, Spring, Grand Prairie, Morrison, Wichita, Lincoln, Maryland Heights, Highland Park, Columbus, Lenox, Gilford, Wantagh, Holmdel, Saratoga Springs, Bethel, Camden, Toronto, and Cuyahoga Falls.
Next on the slate are Clarkston, Bristow, Raleigh and Charlotte before wrapping in Alpharetta on August 5. Taylor heads across the pond to perform next at the Phones4U Arena in Manchester, England on September 30, 2014.
James Vernon Taylor was born March 12, 1948 in Boston where is father was a resident physician. His mother was an aspiring opera singer. Taylor wrote his first song on guitar at age 14, and continued to learn the instrument as if by second nature. By the summer of 1963, he and a pal named Kortchmar were playing coffeehouses around Martha's Vineyard, billed as "Jamie & Kootch".
In late 1967, funded by a small family inheritance, Taylor moved to London and was able to get his demos to Paul McCartney, who later said, "I just heard his voice and his guitar and I thought he was great ... and he came and played live, so it was just like, 'Wow, he's great.'" Taylor became the first non-British act signed to Apple.
In 1971, Taylor's biggest hit single in the U.S., a version of the Carole King standard "You've Got a Friend" (featuring backing vocals by Joni Mitchell), reached Number One on the Billboard Hot 100 in late July.
The album itself reached Number Two, which would be Taylor's highest position ever on the list. In early 1972, Taylor won his first Grammy for Best Pop Vocal Performance, Male for the song. King also won Song of the Year for the same tune in that ceremony.
Taylor has recorded a total of 16 albums. Following his 8th album in 1977 called JT, his commercial achievements declined slightly until a resurgence came in the late 1990s and 2000s, when he recorded some of his best-selling and most-awarded work in the albums Hourglass, October Road and Covers.
Recently, in 2011, Taylor performed "Fire & Rain" with Taylor Swift at the last concert of her Speak Now World Tour in Madison Square Garden. In 2012, Swift appeared as Taylor's special guest in a concert at Tanglewood.
In 2013, Taylor performed at the memorial service for slain MIT police officer Sean Collier with his songs "The Water is Wide" and "Shower the People". Most recently, he sang "America the Beautiful" at President Obama's second inauguration.
Taylor is a five-time Grammy Award winner. He was inducted into the Rock & Roll Hall of Fame in 2000. His best-selling album, the 1976 Greatest Hits release, was certified Diamond and has sold over 12 million US copies to date.
To shop for James Taylor tickets, visit BuyAnySeat.com.
About BuyAnySeat.com: An online ticket marketplace, BuyAnySeat.com connects sports, theater and other live entertainment fans to an extensive worldwide network of ticket sellers. The site's simplified listings and navigational tools enable fans to easily locate, compare and purchase inexpensive, discounted or lower-priced tickets to virtually all advertised sports and entertainment events around the globe.
The marketplace, which is PCI-compliant and Norton Secured, also provides customers with a complete Worry-Free Guarantee on all ticket purchases. Based in Denver, Colorado, BuyAnySeat.com is a subsidiary of Denver Media Holdings. For more information, please visit http://buyanyseat.com.