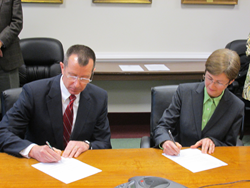 A student could potentially graduate as a high school senior from Fork Union and enter William & Mary as a college junior, with his Associate's Degree already in hand.
Fork Union, VA (PRWEB) February 28, 2014
In an historic agreement signed this week, Fork Union Military Academy established a partnership with Richard Bland College of William and Mary to offer dual enrollment courses for cadets. This unique agreement will enable cadets to graduate from Fork Union with both a high school diploma and an Associate of Science degree at the same time. The partnership commences March 1, 2014 and will be renewed annually.
The first course to be offered under this partnership will be a three-credit Computer Modeling, Simulation, and Gaming class during Fork Union Military Academy's 2014 Summer Session. Implementation of the full Associate's Degree curriculum will be rolled out in September, 2015.
While there have been dual enrollment courses offered at Fork Union Military Academy for a number of years through a relationship with Piedmont Virginia Community College, this new partnership will offer cadets in the Upper School more than 60 college credits. A student could potentially graduate as a high school senior from Fork Union and enter William & Mary as a college junior, with his Associate's Degree already in hand. Some of the courses (32-34 credits) will be taught by FUMA faculty, and the remaining 26-28 credits will be taught by college professors from Richard Bland in a distance learning format. The schools will use a synchronous, live format for most of these distance learning classes, with a live college professor interacting with students through technology that allows the professor to be essentially "face to face" with students in the classroom.
"We are thrilled to enter into this innovative partnership with Fork Union Military Academy," said Richard Bland College President Debbie L. Sydow, Ph.D. "Richard Bland College is on a quest to further the Commonwealth's degree attainment goals, and this partnership with FUMA represents a significant step forward."
This new relationship will help Richard Bland College pursue the Commonwealth of Virginia's established goal of 100,000 additional college degrees earned by Virginians by the year 2025. It will also give Fork Union cadets a tremendous head start on their college education. College credits earned by cadets will be transferable to other colleges, and Richard Bland has established formal transfer agreements with a number of Virginia colleges such as William & Mary and Virginia Commonwealth University guaranteeing a student's automatic acceptance.
"Richard Bland and Fork Union share similar goals that are rooted in the growth and success of our students," said FUMA President, RADM J. Scott Burhoe. "It's an honor to partner with a like-minded institution and be able to offer FUMA students a unique advantage."
About Fork Union Military Academy
Fork Union Military Academy is a college preparatory, Christian, boarding military school for young men in grades 6-12 and postgraduates located in Fork Union, Virginia, the very heart of central Virginia. FUMA uses the best aspects of the military to create an environment focused on academic achievement, character building, and leadership development. Their goal is to build solid citizens who embody the core values of respect, integrity, faith, character, and discipline.