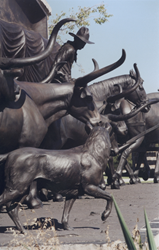 Duncan, OK (PRWEB) March 01, 2014
Duncan Little Theatre hosts their annual talent show fundraiser and is looking for the best talent in Southwest Oklahoma.
Auditions will be March 1, 2014 10am-2pm at Hodgson Studio of Music and Drama, 814 W Walnut, Duncan, Oklahoma. All members of your act must be present at auditions. Please bring music, instruments and props or anything needed for your act. Under 18 yrs of age, parental permission slip to be signed. Solo acts $15, group acts $10/person.
"We've Got Talent" will take place at the Jack A Maurer Convention Center Theatre on April 5, 2014 at 7 pm. First place will receive a cash prize and a People's Choice Award winner will also be given.
Duncan Little Theatre brings "live theatre" to the southwest area by providing an extremely varied program of plays, musicals, assorted dinner theatres, and melodramas over the course of each year. Their website contains details on dates of events, tickets, costume rentals, audition details, and other "theatre" activities in the community.
For more information contact the Duncan Convention and Visitors Bureau at 580-252-2900 xt 240 or 800-782-7167.