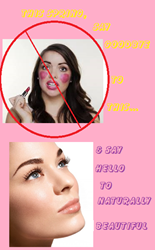 Our skin needs the capability to breathe and keep pores fresh, semi permanent makeup is the solution to keeping your skin youthful
(PRWEB) February 28, 2014
Year after year, we as women are in search to find that perfect color that lasts 12, 24, or even 48 hours. We are in constant search for longer lasting beauty and it is has been our mission to find the answer. All of that searching has not gone to waste! LongTime Liner® CONTURE® makeup gives women the chance to finally have that effortless, natural, glowing aura about them without having to lift a finger. LongTime Liner® has been working hard for the last 27 years to perfect their skill and the results are proving their dedication. Women now have the ability to wake up feeling confident and beautiful with the ability to accentuate their natural beauty, opposed to hiding their identity behind piles of clumpy, pore clogging makeup. Our skin needs the capability to breathe and keep pores fresh, semi permanent makeup is the solution to keeping your skin youthful by less pulling, stretching, and rubbing on the skin daily, a more youthful looking future is ahead of us. Preserve your beauty this spring, and treat yourself to the gift of a subtle natural glow. LongTime Liner® offers Eyeliner, Eyebrow & Lips to enhance natural beauty & provides camouflage services for those in need of some scar coverage, pigment modification, alopecia clients losing hair, & clients with embarrassing marks or scars they want to cover. Let LongTime Liner® serve you with integrity, honesty and our best personal opinion on your every day beauty needs.
More info can be found via phone, email, our website, facebook, or twitter.
Article by: Jessica Trainor, Salon Coordinator of LongTime Liner® in Beverly Hills.