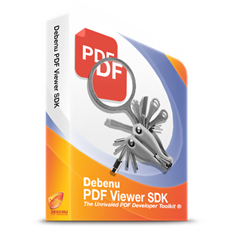 If you develop applications with PDF functionality you choose Debenu as your SDK.
Melbourne, Australia (PRWEB) March 06, 2014
Debenu PDF Viewer SDK is a new add-on to Debenu Quick PDF Library, making the combination an ideal solution for IT project managers and developers looking to give applications the ability to view and interact with PDF files. A powerful, easy to use and quick to implement PDF Viewer SDK gives programmers the ability to work with PDF components without requiring deep PDF expertise.
Staying consistent with the Royalty Free development ethos underpinning Debenu's licensing model, Debenu PDF Viewer SDK is also completely Royalty Free - meaning that a license includes unlimited distribution at no additional cost. Ready for Windows development as an ActiveX control which can be used with programming languages such as C#, C++, Delphi, Visual Basic and more.
The feature and benefit set include:

Display PDF from file or memory
High-quality rendering
Very fast PDF loading
Full Unicode support
PDF ISO 32000 (PDF 1.7) compliance
Support for all font types: TrueType, Type0, Type1, Type3 & OpenType, plus CJK font support
Support for all compression schemes: LZW, Flate, RLE, CCITT Fax, JBIG2, DCT, JPEG-2000
Support for transparency, pattern & shading
Support for all color space: Gray, RGB, CMYK, LAB, ICC based, Indexed, Pattern, Separation, DeviceN
Support for all text rendering modes: Filled, Stroked, Clipped
Support for large PDF and large embedded bitmap
Support all encryption schemes (RC4 40-bit, RC4 128-bit, AES 128-bit & AES 256-bit)
Password support for encrypted PDF documents
Printing, text extraction and general PDF manipulation when also using Debenu Quick PDF Library
100% Royalty Free
"Requests for additional functionality to be built into the PDF SDK are commonplace as developers want to be more responsive to their end users. It is no coincidence that our increase in feature requests coincides with higher demand because of the library's functionality, price point and license terms." says Karl De Abrew, Debenu CEO. "If you develop applications with PDF functionality you choose Debenu as your SDK."
"Our approach to creating user friendly software is to innovate where needed and that is how we are driving development." Rowan Hanna, Debenu CTO, explained. "We are excited to release Debenu PDF Viewer SDK . We think customers will embrace this release and future add ons planned for later in the year. We are looking forward to helping all our current and new customers get their applications to market faster and easier."
Debenu PDF Viewer SDK is an add-on to Debenu Quick PDF Library putting a widely tried and tested PDF SDK at the core of the software. Thorough beta testing of the new PDF Viewer SDK confirmed that it is capable of quickly and accurately displaying PDF in high quality.
Debenu Quick PDF Library for Windows
ActiveX - ActiveX COM for Windows development supports C#, Visual C++, C++ Builder, Delphi, Visual Basic, PHP, Python, Java, PowerBASIC and more. 32-bit and 64-bit versions.
Available on Desktop
Windows XP, Vista, 7 and 8. 32-bit and 64-bit.