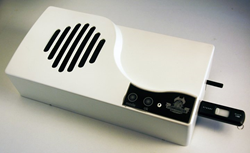 You Cant knock it
Sparta, NJ (PRWEB) February 28, 2014
Predominance LLC is readying the next generation of their digital doorbells with a whole new design that takes advantage of today's wireless technology and offers un- paralleled sonic integrity. The new design will focus on a new uni-body chassis whereby the solid cover or housing of the doorbell acts as the frame for all the components. Predominance says this will lighten up the weight of the overall unit but not in any way compromise the rugged integrity of the doorbell. The new design will also incorporate the same low, continuous 12 -24 volt power supply for power, yet offer a new 20 watt stereo amplifier to replace the current 10 watt amp. The new amp will be able to project stereo imagery through (2) 4" full range speakers, the second speaker being a wireless add-on available from Predominance should the customer desire that. This will enable the end user to locate the second speaker up to 3 feet from the first, projecting a respectable stereo image and producing over 85 dB of amplitude.
Other features to be added include WIFI, which will enable users to change sound files from their smart phones, as well as Blue Tooth. Blue Tooth can be used in a wireless situation whereby an additional wireless second stereo speaker is added. Predominance also suggests that is could include a lighted, radio activated doorbell switch. This switch would alleviate the hassles with wiring a switch all together, and combined with Blue Tooth, the switch could alert homeowners when the switch was activated on their smart phones anywhere in the house.
The original Tommyknocker Digital doorbell is still available and comes with everything needed to do a hardwire install. The unit includes pigtail, mounting plate, USB stick and necessary hardwire to get up and running in no time at all. Please see http://www.tommyknockerdoorbell.com.