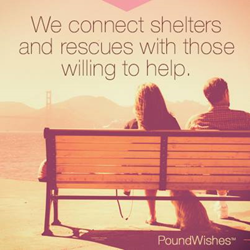 Austin, TX (PRWEB) March 03, 2014
Over six million dogs and cats are entered into a shelter every year. Today, PoundWishes.com announces the launch of its new online platform, which aims to help fund the rehabilitation of pets in need, find homes for adoptable pets, and raise awareness for the financial needs of rescues and shelters across the U.S.
In order to help the pet community obtain much-needed financial support to help offset various expenses for their animals, PoundWishes.com will connect them with a global audience of potential donors. On the PoundWishes.com platform, shelters and rescues can set up their own profile to showcase cats and dogs in need of a medical procedure or to help get them prepared for adoption. Users can also begin the process of adopting a pet from a shelter or rescue through PoundWishes.com. All participating shelters and rescues will be vetted to confirm their not-for-profit status, in order for any funds to be considered a donation by individual donors.
"Shelters and rescues take on a tremendous burden to raise money," says Charli Alu, Director of Outreach for PoundWishes.com. "We wanted anyone who supports the pet community to be able to contribute to the care and well-being of these animals and help better their lives."
Donations, also known as "Granting a PoundWish," can be made to participating shelters and rescues in any dollar amount, and donors will be provided with confirmation of their donation to a non-profit shelter of rescue. PoundWishes.com is launching to local and regional pet facilities, but intends to expand their capabilities to garner a global reach and achieve greater results for animal shelters and rescues around the world.
PoundWishes.com was co-founded by Curtis Taylor and John Hussey. Curtis' daughter Mckenzi, who was diagnosed with cancer at the age of 2, was the recipient of gifts and attention from organizations such as the Make A Wish Foundation when she was undergoing treatment. Five years ago when visiting a pet shelter, Mckenzi was inspired by her own personal journey to help raise support for pets in shelters and rescues. Curtis, who has an extensive background in web development, partnered with John Hussey, CEO of Pilot Acquisition LLC., an investment company specializing in funding start-ups and work out transactions. Together, they have made the endeavor – named "PoundWishes" by Mckenzi – a reality.
To make a donation or for more information, please visit: http://www.poundwishes.com.