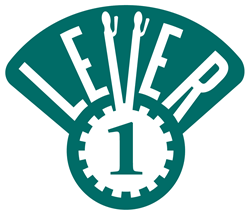 My roots are in Kansas City and I am passionate about bettering my local community through philanthropic activities
Kansas City, Mo (PRWEB) February 28, 2014
Erica Brune, President of Lever1, is a 2014 Rising Star of Kansas City! Kansas City Business Magazine awarded Brune in February for her innovative approach to leadership and remarkable success story.
"It is an honor to be recognized as an entrepreneur and leader within the Kansas City business community," said Brune. She is dedicated to the growth of Lever1, her team, and profession. "I humbly accept this award and am excited for the new opportunities that 2014 will bring."
Under Brune's leadership Lever1 has become an emerging professional employer organization (PEO)— recognized by Thinking Bigger Business Magazine as a "Smart Company to Watch" in Kansas City. In the last three years Brune has continued to accelerate professionally. She offers 15 years of human resources and strategic fiscal reporting that has led to a 45% financial growth year over year for her companies. As President, she drives new business relationships, product innovation, and efficiencies that give Lever1 clients the freedom to focus on core business goals.
"Although I lived and worked in New York for several years, my roots are in Kansas City and I am passionate about bettering my local community through philanthropic activities," said Brune. This is visible in her professional career as Brune was instrumental in bringing several pro-bono clients to Gragg Advertising and Lever1, including the City Union Mission and the Summit Theatre Group—where she currently serves as Treasurer. She also established the Gragg Gives Back program which now averages 15 employees facilitating various community service events each month.
Brune is responsible for the vision, strategy, execution and financial outcome for Lever1 and has balanced these responsibilities while volunteering her time with local organizations. Brune is truly a Rising Star to be watched and possesses a contagious spirit that makes everyone she interacts with strive for excellence professionally and personally.
The special edition of the Kansas City Business Magazine may be found here: http://edition.pagesuite-professional.co.uk//launch.aspx?eid=c119a0c3-7ebd-46b8-9578-8d5d3ffe6df4.
About Lever1:
Lever1 is a Kansas City-based professional employer organization (PEO) providing a multitude of resources for small businesses across the country. Integrated services enable business owners to cost-effectively outsource the management of human resources, office management, payroll, accounting and public relations/marketing. Learn more at 816.994.1300 or visit http://www.lever1.com.