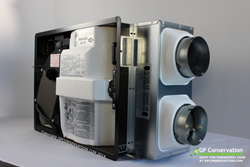 Panasonic energy recovery ventilators help improve indoor air quality.
Fairview, OR (PRWEB) February 28, 2014
GP Conservation, the premium online retailer for energy efficiency solutions, addresses a general supply shortfall for energy recovery ventilators in contractor and consumer markets by making Panasonic energy recovery ventilators (ERV) readily available to contractor and home owners via its ecommerce platform. ERVs provide a fresh air supply of filtered air to homes while minimizing the heat loss associated with bringing unconditioned air from the exterior of the home. ERVs are considered a specialty product not readily available for off the shelf sales through conventional channels like hardware or home improvement stores.
"With new construction codes in place requiring air sealed and super insulated homes it often puts air quality at risk. Contractors report back to us that homes do not get a sufficient air supply causing many structures to suffer from condensation, mold, and mildew issues. GP Conservation decided to step up to the challenge by making a cost effective solution addressing air quality and energy efficiency concerns," states Roch Naleway, General Manager of GP Conservation. The Panasonic FV-04VE1 energy recovery ventilator does more than a standard ventilation fan. In fact, the Panasonic ERV is actually two fans in one: instead of just exhausting indoor air, the Panasonic WhisperComfort ERV has a second fan that brings in air from the outdoors. This transfer of air helps maintain a continuous supply of fresh air to homes.
GP Conservation recommends Panasonic ERVs to home owners with new and existing homes. Poor indoor air quality can create health hazards for a home's occupants, and can also result in cosmetic and structural damage to the home itself. Some of the factors that contribute to reduced air quality are pollen, pet dander, chemicals from cleaning supplies and other pollutants, as well as excess dryness or humidity. The Panasonic WhisperComfort ERV helps eliminate these concerns by maintaining a supply of filtered fresh air from outdoors, while also exhausting pollutants, odors and stale indoor air.
The Panasonic WhisperComfort ERV not only helps to increase air quality, but does so in a very energy efficient manner. Inside the unit, the incoming fresh air passes by the exhausted indoor air allowing for a transfer of energy in the form of heat and moisture. That means that during heating season (winter), the heat and moisture from the indoor air are transferred to the incoming fresh air, thus preventing the home from becoming too dry. Conversely, during the cooling season (summer), the heat and humidity from the outdoor air are transferred to the air being exhausted from the home, thereby keeping the interior air cool and dry. In both cases, the Panasonic WhisperComfort ERV works efficiently year-round to keep the air inside the home clean and comfortable.
"Contractors and consumers that experience ERV-technology in their homes are big proponents. It is a quick and easy installation and is almost completely silently operating", states Roch Naleway. The Panasonic WhisperComfort ERV is incredibly quiet, and aptly named – it operates at 0.8 sones, which is literally the level of a whisper. It also uses only 23 watts of electricity, which is equivalent to a CFL light bulb. The Panasonic WhisperComfort ERV is an ideal energy efficient solution to improve the air quality in homes.
About GP Conservation
GP Conservation is an e-commerce retailer for consumers and contractors in the area of energy and water conservation products. GP Conservation has been operating as online retailer since 2002. GP Conservation sources a wide selection of specialty products from manufacturers that are committed to quality conservation products.