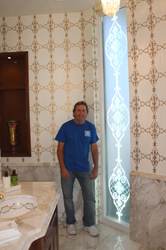 My first challenge was to create a design to coordinate with the wallpaper selected for the bathroom that would also look good in the stairway. - Glass Artist Peter Edward Jurgens
Pompano Beach, Florida (PRWEB) March 11, 2014
Peter Edward Jurgens, a master glass artist celebrating 30 years of creating fine art glass in South Florida, recently completed two 115" tall LED illuminated art glass windows with a custom design for an ocean-front home in Highland Beach, Florida.
Jurgens, president of Krystal Glass Company in Pompano Beach, Florida was commissioned to create two custom decorative glass windows to create a sense of privacy inside the home. The windows are in a bathroom and stairway on the front of the home and can be seen from the busy street below. Working closely with the interior designer, Jurgens created a custom artistic solution using LED illuminated art glass windows.
"My first challenge was to create a design to coordinate with the wallpaper selected for the bathroom that would also look good in the stairway," Jurgens said. "The second challenge was to make the windows opaque for privacy but also compliment the home's exterior." He created LED illuminated art glass inserts so the existing hurricane impact windows would not have to be changed.
Jurgens created the design from the main scroll work in the wallpaper and hand carved a repeating pattern in the glass panels for both windows spanning the 115" length. The background was etched solid to make the glass opaque. During the installation Jurgens added white LED lights around the entire edge of the glass to illuminate them. Not only do the LED illuminated art glass windows offer a beautiful design and privacy to inside the home, they dress up the outside too, especially at night.
Peter Edward Jurgens, president of Krystal Glass Company in Pompano Beach, Florida, is a master glass artist with a 30-year history of creating thousands of custom art glass projects by hand in etched glass, carved glass, illuminated glass, painted glass, antique mirror and decorative mirrors. His art glass and mirror grace the luxury homes, yachts and offices of clients in his hometown of South Florida and can be shipped to any location. He is well known for highly detailed etched and carved glass designs rich with multi-shaded areas that he achieves by hand. Most of his commissions come from referrals and repeat clients. Krystal Glass Company has been family owned and operated since 1980.