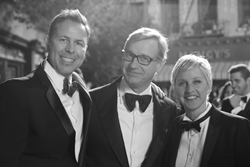 Los Angeles, CA (PRWEB) February 28, 2014
On the heels of the 2014 OSCARS campaign with ABC Marketing Entertainment and the Academy, Executive Producer Joseph Uliano is launching his new venture "BLACK LABEL CONTENT." "Here We Go", the trailer for the Oscars, is an extravaganza featuring Ellen DeGeneres and a cast of over 250 tuxedo clad dancers, directed by Paul Feig, (Bridesmaids and The HEAT).
Watch Ellen: http://blacklabelcontent.com/project/ellen-academy-awards/
As an executive producer, Uliano works with some of the most prolific talent in the business and also is EP at Wondros Music + Vision, a collective of directors like Jesse Dylan, renowned filmmaker Antoine Fuqua, noted Director Mark Pellington, Oscar®-nominee David O. Russell, Oscar®-winning musician/composer/director Trent Reznor, Sophie Muller & Wayne Isham, to name a few.
Uliano's relationships in the creative community allow clients access to a wide scope of talent, from advertising to feature films, and now he brings those relationships to Black Label Content.
BLC is a unique production company that integrates seamlessly with Inhouse creative teams as well as creative companies to bring the highest level of a production experience to its partners.
Recently BLC partnered with ABC ENTERTAINMENT MARKETING for the TARGET integrated marketing Campaign "MY KIND OF HOLIDAY". The spots use characters from the Wednesday night lineup to tell a connected tale and drive viewership across the evening.
Watch "My Kind of Holiday": http://blacklabelcontent.com/project/my-kind-of-holiday-2/
This following the success of "THE GIFT OF REVENGE" which ABC ENTERTAINMENT MARKETING AND BLC won the PromaxBDA Gold for ON-AIR CONSUMER TIE-IN/ BRAND INTEGRATED CAMPAIGN, earlier in the year.
My Kind Of Holiday BLACK LABEL CONTENT will be strategically focused on broadcast branding and marketing and has partnered with BE CREATIVE MANAGEMENT for Representation.
http://www.blacklabelcontent.com
ABOUT BE CREATIVE MANAGEMENT
BCM is dedicated to brilliant communications for entertainment, media, advertising, and consumer brands worldwide. Based in New York and Los Angeles, BCM represents top creative agencies that transform strategy into engagement.