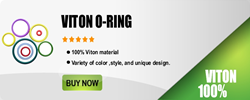 (PRWEB) March 02, 2014
TOGOHK.com, a renowned supplier of various silicone gaskets, offers the very best it can to its global clients in terms of savings and service. Recently, TOGOHK.com has released its new collection of Viton gaskets; the new designs are available in different sizes, and custom designs are available.
TOGOHK.com specializes in manufacturing all kinds of Viton gaskets, silicone gasket, silicone cases, silicone tubes and more. Customers should know that TOGOHK is offering more to its customers than the usual exceptional options. Now, all new Viton gaskets are available at discounted prices, up to 31% off.
"We are happy to launch the new Viton gaskets for our customers. The special offer will last until March 31, 2014. The full line of Viton gaskets is offered in different sizes, and they can satisfy the various needs and requirements of customers worldwide. Each of them is of top quality," the CEO of the company says.
TOGOHK.com is many customers preferred choice for the reliable quality and dedicated customer services. Its exclusive designs have been vital for its success. The global market of Viton gaskets is growing fast and TOGOHK is able to join hands with the clients who prefer working with a reliable team.
About TOGOHK.com
With a dedicated engineering team and a full suite of silicone products, TOGOHK has developed into a modern company that offers its customers worldwide a one-stop silicone product solution from conception to delivery. With high technology engineering and advanced CAD and CAM, the company has been serving more than 3000 customers from over 70 countries.
For more information about the business, please visit their website at: http://www.togohk.com/viton-o-rings-size-chart/.