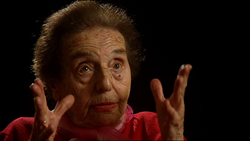 Everything Is A Present.
London, UK (PRWEB) March 02, 2014
At the burial of the internationally loved Alice Sommer, the film director Christopher Nupen (Allegrofilms.com) gave the funeral address, at the wish of Alice Sommer herself.
He said, "Alice Sommer has left us and the world has lost one of its brightest, purest and most beautiful souls – a spirit that was not only beautiful in itself but which sought beauty, sought to create beauty and drew beauty to itself in a way that very, very few have ever been able to do.
Tonight, and  on all other nights, she will sleep in that part of eternity where all of us are destined to go in the end but something of her spirit remains on the earth in her book, her two films, in the minds and – above all – in the hearts of the many hundreds of thousands who love and admire her."
Christopher Nupen had been close to her for more than 20 years and his two films with her reflect that closeness very powerfully. They also  echo the quality for which his portrait films have become famous (Jacqueline du Pré, Andrés Segovia, Daniel Barenboim, Vladimir Ashkenazy, Itzhak Perlman, Pinchas Zukerman, Nathan Milstein, Evgeny Kissin and others).
Nupen's two films with Alice Sommer, We Want the Light and Everything is a Present capture, for generations to come, many of the rare qualities which Alice Sommer possessed and which won the hearts and minds of all who discovered her.
The films, both released on All Regions DVD and available worldwide, are not the usual facts and figures documentaries, they examine, instead, the meaning behind their subjects and the reasons for their enduring value.
The first looks at the complex relationship between the Jews, the Germans and music, and its most touching witness is Alice Sommer.
The second film, Everything is a Present, looks at the music and the artistic persona of Alice Sommer herself, who played more than 100 concerts in the Terezin concentration camp and who believes that music and her optimism together explain both her survival and her astonishing longevity.
In the second film she says, "The life of a musician is a privilege. Of this I am sure. Because, from the morning till the evening and from the evening till the morning the musician is concerned with the most beautiful thing that is coming from mankind – music."
Those films are the only two that were made by people who knew her intimately and she valued both films highly. The second became her favourite film in all the world which was surprising because she had an acutely critical mind, especially in connection with her music and with herself.  What she liked so much, and never tired of saying, was the unusual form of the film, its depth and its juxtapositions. She said, "I have never seen this done before."
She was totally without vanity or pretence.