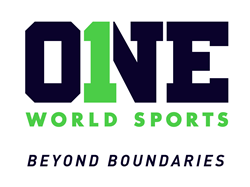 Ernest Villicana, executive director, programming & packaging at Hawaiian Telcom:"We're excited to launch a channel with the broad appeal of ONE World Sports."
New York, NY (PRWEB) March 03, 2014
ONE World Sports has signed a multiyear, multiplatform pact with Hawaiian Telcom in a move that extends the global sports network's reach to the island paradise of Oahu.
ONE World Sports will be carried both in standard and high definition, beginning March 1. The network will be offered as part of the Advantage Plus package (SD Ch.91; HD Ch.1091), to which a majority of their customers subscribe. This package also includes other major entertainment and sports networks such as MTV Hits, Sundance Channel, CNN International, BBC World News, Disney Junior, National Geographic Wild, Fox Sports 2, Universal Sports and Big Ten Network.
"Our scheduled launch on Hawaiian Telcom is notable—and not just because it expands our growing reach into the Aloha State," said Alexander "Sandy" Brown, president and CEO of ONE World Sports. "We're pleased that Hawaiian Telcom has chosen to offer ONE World Sports across the entire breadth of its system."
Said Ernest Villicana, executive director - programming & packaging at Hawaiian Telcom: "We're excited to launch a channel with the broad appeal of ONE World Sports. We are confident that its exclusive coverage of live sporting events from around the world will prove very popular with our customers while differentiating our offering from our competitors."
ONE World Sports' launch on Hawaiian Telcom follows other major moves by the emerging network including the recent opening of its new HD Broadcast Center in Stamford, Conn.; network rebranding and a new on-air presentation; and the addition of top global sports franchises to the network's programming line-up. Recent programming additions include a stable of top European soccer content—featuring the matches and shoulder programming of Chelsea, Arsenal, Bayern Munich and AC Milan —carried via exclusive arrangements with their respective club TV channels.
"This important launch demonstrates that we can and will continue to make big strides in expanding distribution of ONE World Sports to complement the positive progress the network is making on the programming front," said Randy Brown, executive vice president-distribution at ONE World Sports. "We're on a roll."
About ONE World Sports
ONE World Sports is a sports network delivered on all platforms targeting millennials that features exclusive world-class sporting events live from around the globe. The network showcases some of the world's best soccer, including Arsenal FC TV, Chelsea FC TV, Bayern Munich FC TV, AC Milan TV and the New York Cosmos, along with top soccer from Asia and the Pacific Rim, including the FIFA World Cup Qualifiers and the AFC Champions League. The network also exclusively telecasts Japan's legendary team, the Yomiuri Giants; Kontinental Hockey League; Chinese Basketball Association; OneAsia Golf; and the world's best competitions in table tennis and badminton.
Recent research for ONE World Sports by Frank N. Magid Associates identified an important consumer segment, with 56% of 18- to 34-year-olds and 63% of all males in the same age group expressed interest in watching ONE World Sports.
ONE World Sports is available via DISH Network, Cablevision's Optimum TV, Mediacom Communications and Google Fiber.
ONE World Sports is owned and operated by ONE Media Corp., which also owns and operates ONE CONNXT, a global HD/SD broadcast video transport services provider; America ONE Television, a general entertainment and sports broadcast network; and America ONE Sports, a leading provider of live broadband sports.
For more info, see http://www.oneworldsports.com
About Hawaiian Telcom
Hawaiian Telcom is headquartered in Honolulu. It is Hawaii's leading provider of integrated communications, technology and entertainment solutions for business and residential customers. Hawaiian Telcom offers a full range of services that include voice, TV, Internet, data and wireless. These advanced communications services are supported not only by the reach and reliability of Hawaii's most advanced fiber network.
# # #
For more information, contact:
Carl DiOrio
Bob Gold & Associates
p. 310-320-2010
carl(at)bobgoldpr(dot)com