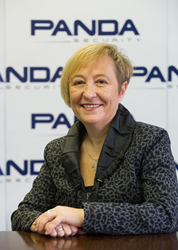 There is no doubt that the company's future success will be intimately linked to the active and successful participation of our partners.
Orlando, FL (PRWEB) March 03, 2014
Panda Security, The Cloud Security Company, has announced that Yolanda Rodríguez has been appointed as its new Global Channel Director. Rodríguez's mission will be to implement and maintain a channel-based distribution model in the multinational company with the following objectives: ensure business growth through a global, scalable model, and provide the company's partner community with a successful business model with high levels of profitability and sustainable in the medium and long-term.
Rodríguez combines a long professional career spanning more than 25 years in the ICT sector, with extensive knowledge of business methodologies such as Capability Maturity Model, Assessor Training Program, Pragmatic Marketing or Practical Product Management, among others.
Prior to joining Panda Security, Rodríguez held a number of management positions for large technology enterprises including Afirma Group – where she served as Managing Partner and General Manager of Afirma Latin America, as well as Microsoft Ibérica or Navision, where she took different responsibilities in the partner management area.
"Panda Security provides its partners with a value-added offering which includes an extensive services portfolio to meet the security needs of companies of every range. Additionally, it offers partners a consistent and highly profitable business model sustainable over time. There is no doubt that the company's future success will be intimately linked to the active and successful participation of our partners," said Rodríguez.
About Panda Security
Founded in 1990, Panda Security is the world's leading provider of cloud-based security solutions, with products available in more than 23 languages and millions of users located in 195 countries around the world. Panda Security was the first IT security company to harness the power of cloud computing with its Collective Intelligence technology. This innovative security model can automatically analyze and classify thousands of new malware samples every day, guaranteeing corporate customers and home users the most effective protection against Internet threats with minimum impact on system performance. Panda Security has 80 offices throughout the globe with US headquarters in Florida and European headquarters in Spain.
Panda Security collaborates with The Stella Project, a program aimed at promoting the incorporation into the community and workplace of people with Down syndrome and other intellectual disabilities, as part of its Corporate Social Responsibility policy.
For more information, please visit http://www.pandasecurity.com/.