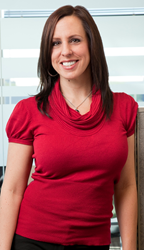 We at FirstService Residential are confident that Jodi will not only be a great addition to our team but also an invaluable asset to our company.
Scottsdale, AZ (PRWEB) March 04, 2014
FirstService Residential, the leading community management company in Arizona, has named Jodi Henderson as its new Director of Business Development. Henderson brings over 12 years of community association management expertise to FirstService Residential. Henderson will be primarily responsible for procuring new business and overseeing all sales and marketing initiatives for the company. She is also part of the Leadership Team and her enterprising strategies will ensure the goals of the company are successfully achieved.
"We at FirstService Residential are confident that Jodi will not only be a great addition to our team but also an invaluable asset to our company. With her significant amount of experience in the HOA industry and her overall tenacity, I believe she can take our Business Development department to new heights and help us retain our #1 ranking as Arizona's top HOA Management Company," said Jason Proudfit, FirstService Residential Arizona President.
Prior to joining FirstService Residential, Henderson was the Executive Director of the prestigious Arizona Biltmore Estates Village Association. In addition, she has worked with several land developers and homebuilders throughout the valley in establishing their community associations from planning phase through transition to homeowner control. Henderson is also a seasoned Board member, as she sat on approximately 30 developer controlled HOA boards while working for Lennar Corporation as their HOA/DRE Manager. She is also an accomplished community manager and has achieved great success in portfolio community management, as well as high end, on-site, luxury condominium management.
"I am thrilled to be a part of the FirstService Residential family and look forward to utilizing my industry experience to educate and earn the confidence of Homeowner Association and Developer controlled Boards in the collective goal of enhancing property values and the lifestyles of every resident in the communities we manage," said Henderson.
Henderson's diverse background in community association management gives her an exceptional edge and understanding of the unique needs of FirstService Residential's varying clientele.
FirstService Residential provides full-service community management solutions to a wide range of homeowner and condominium associations including some of Arizona's most beautiful and recognizable communities. Since 1968, its team has worked hard to serve the homeowners of Arizona, and today, the company is recognized as the leading HOA management company throughout the state. FirstService Residential has been selected as Arizona's top choice of HOA management companies by Ranking Arizona for seven consecutive years and by the Phoenix Business Journal for the past six years.
About FirstService Residential
FirstService Residential is a subsidiary of FirstService Corporation, a global leader in the rapidly growing real estate services sector, one of the largest markets in the world. As a leading property management company in North America, FirstService Residential oversees more than 6,500 residential and commercial associations including 1.5 million residential units and over 50 million square feet of commercial space across 21 U.S. states and three provinces in Canada. The company has more than 12,000 employees driving local market expertise and manages in excess of $6 billion in annual budgets. For more information, visit http://www.fsresidential.com.
###