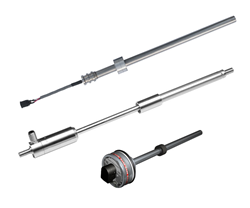 (PRWEB) March 04, 2014
MTS Systems Corporation, a leading global supplier of test systems and position sensors, announced that its Sensors Division presented an expanded offering for the mobile hydraulic marketplace today at CONEXPO / IFPE 2014 in Las Vegas. Along with additions to the company's Temposonics® MH-Series of linear position sensors, the new Model HE hall-effect sensor was introduced.
"Vehicles today require multiple sensors with different precision needs," said Luka Korzeniowski, Technical Marketing Manager, MTS Sensors, Mobile Division. "Whether it is steering control, active suspension or even basic height control, MTS Sensors offers the optimal sensor."
To meet the more diverse needs of these manufacturers and their applications, MTS Sensors developed solutions that cover a wider range of performance and installation requirements. At CONEXPO the company is showcasing the latest of these innovations and how they fit into the MTS Sensors product offering.
New Products Introduced at CONEXPO 2014

The Model HE hall effect sensor for applications with lower duty cycles and where pin to pin dimensions are critical, and reliable and continuous measurement will improve system performance.
The Temposonics Model MXR linear position sensor. The latest addition to the MH-Series sensor line, the MXR comes with a stainless steel mechanical package and a variety of mounting options. It is ideal for use in retrofitting legacy equipment due to its ability to easily mount the sensor externally onto hydraulic cylinders or linkages.
The Model MH Flex flexible linear position sensor is targeted at applications where reliable precision measurement also requires easy in field installation and replacement. The two part sensor allows for low clearance installation and removal in tight confines.
Existing Products

Temposonics® MH-Series Sensors. Products developed specifically for use in hydraulic cylinders on mobile equipment where accurate control and measurement are needed. They are designed to hold up in harsh environments. Specific protocols include:
Model MH Analog sensor with standard voltage and current outputs
Model MH Digital sensors with CAN Open, Can Open Safety and Can SAE J 1939 outputs
Model MH PWM with frequency output with pulse width modification
Model MT redundant sensors with two individual analog outputs
Model MS sensors, a compact in-cylinder design with voltage and current outputs
"Our goal is to give the manufacturer more flexibility in design and more choices in technology, while still ensuring the quality they've come to expect from MTS Sensors," said Korzeniowski. "This allows them more freedom to innovate and adopt the solutions they need to remain competitive. At CONEXPO 2014, we will be presenting our answer to this industry need to manufacturers and other industry leaders."
New Products for Processing Applications
MTS Sensors is also showcasing the new Temposonics® Model EE sensor for use in manufacturing and processing applications such as hydraulic presses, rock crushers, and steel mill equipment where temperature or space is an issue. The Model EE sensor is an embeddable sensor that can be integrated directly into a hydraulic cylinder. With a higher performance and better cost effectiveness than other linear positioning solutions on the market, the Model EE offers reliability, durability and ease of use in these industries.
Products Used in Fluid Power
Additionally, MTS Sensors will be showcasing the company's entire line of Temposonics® R-Series linear positioning sensors for use in fluid power and other industrial manufacturing applications. These sensors provide a high level of accuracy, require little to no maintenance and employ absolute measurement, eliminating the need for recalibration. They are available for a range of output protocols, including analog, synchronous serial, CANbus, DeviceNet, Profibus-DP, EtherCAT®, and EtherNet IP.
Additional information can be found at http://www.MTSSensors.com/MH or by visiting the MTS Sensors booth, 80820, at CONEXPO 2014 in Las Vegas.
MTS Sensors is a global leader in sensing technologies and solutions that enable feedback control for automation and safety applications. MTS Sensors, a division of MTS Systems Corporation, serves its global customers with a focus on regional support to provide innovative and reliable sensing solutions. Through its research, development and production of sensing technologies, MTS creates solutions that serve industrial manufacturing, off-highway equipment, liquid level measurement and many other markets. With a diverse and constantly expanding product portfolio, the company is continually working with customers to improve performance and reduce downtime in their operations.