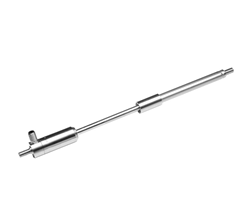 (PRWEB) March 06, 2014
MTS Systems Corporation, a leading global supplier of test systems and position sensors, announced that the Sensors Division today introduced the Temposonics® MH-Series Model MXR linear position sensor, the latest addition to the company's MH-Series for off-highway equipment.
The Model MXR sensor provides customers with a way to realize the benefits of MTS' non-contact Temposonics® technology in an externally mounted solution that is designed to withstand the harsh environments of the off-highway equipment market.
"There are many applications where embedding a sensor in a hydraulic cylinder is not an option," says Luka Korzeniowski, Technical Marketing Manager. "The Model MXR sensor takes our field proven technology and puts it into a mechanical package that can be externally mounted to a hydraulic cylinder or be mounted in locations where a hydraulic cylinder is not present at all.
As automation of off-highway equipment continues to increase, the Model MXR sensor offers our customers increased flexibility with regard to packaging position sensing into their equipment and also allows them to easily retrofit/upgrade existing machines in the field."
The Model MXR sensor is available with a measuring range of 100 to 600 mm with a choice of analog and digital outputs. With its stainless steel mechanical package, the MXR provides outstanding chemical resistance and environmental protection in applications, including IP69K sealing with the integrated M12 connector system. To ease installation, optional spherical eye or spherical stud mounts can also be provided pre-assembled.
"The development and introduction of the Model MXR sensor is part of an ongoing effort at MTS Sensors to expand our total product offering to the off-highway marketplace," said Korzeniowski.
"MTS is proud to continue to bring relevant solutions that showcase our sensor knowledge, as well as our understanding of the market demands."
Additional information about can be found at http://www.MTSSensors.com/MH or by visiting the MTS Sensors booth, 80820 in the South Hall, at CONEXPO / IFPE 2014 in Las Vegas.
ABOUT MTS SENSORS
MTS Sensors, a division of MTS Systems Corp., is the global leader in the development and production of magnetostrictive linear-position and liquid-level sensors. MTS Sensors Division is continually developing new ways to apply Temposonics® magnetostrictive sensing technology to solve critical applications in a variety of markets worldwide. With facilities in the U.S., Germany, Japan, and China, MTS Sensors Division is an ISO 9001-2008 certified supplier committed to providing customers with innovative sensing products that deliver reliable cost-effective sensing solutions.