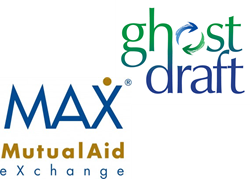 We're spending less time customizing our policies and other documents, and more time creating a personalized customer experience.
Toronto, Canada (PRWEB) March 06, 2014
GhostDraft, an innovator in document automation and customer communications, today announced that MutualAid eXchange (MAX), a member-owned insurance company providing homeowners, farm, and business insurance, has implemented GhostDraft software to simplify and streamline its process for creating custom policy forms and related documents.
Among its many offerings, MAX provides property and liability insurance for farms in the US and Canada. The company has been dependent on its legacy policy administration system vendor to create the documents for complex policies that involve coverage for equipment, supplies and inventory at multiple locations, and found this slowed the time to issue a policy considerably. As it embarked on replacing its core policy administration system, the company was determined to solve these problems and discovered that integrating GhostDraft's user-friendly enterprise customer communications management with its new Stingray system from Maximum Processing would allow MAX to take control of its customer-facing documents.
"GhostDraft fit perfectly into our plan for a more modern document creation system that puts our business users in control. We're spending less time customizing our policies and other documents, and more time creating a personalized customer experience," said Scott Forland, COO at MutualAid eXchange.
From the start of its integration with Stingray, MAX was in production within three months. Now, MutualAid eXchange is creating highly customized declaration pages and other supporting policy documents without consuming internal IT resources or depending on its core system vendor.
"Implementing GhostDraft was much quicker than we expected and the productivity benefits were obvious right away. Before, it would take us several days to produce custom declaration pages for our most complex policies. With GhostDraft, we can do this in much less time," said Forland.
"We've observed many insurers who are committing their IT department's time, resources and investing heavily in modernization of their core administration systems. Document automation and customer communications are often overlooked components," said Kurt Jackson, Executive Vice President at GhostDraft.
"We're committed to making the creation of insurance documents a business user-driven process that can be easily integrated into core systems, and we're pleased to count MutualAid eXchange among our growing circle of customers who are realizing the business advantages of owning their documents."
About GhostDraft
GhostDraft provides enterprise-class cloud-based document creation and management for insurance, financial services and the legal profession. With over 30 years of experience in complex regulated documents, and deep domain expertise in these industries, GhostDraft helps companies deliver customer communications without compromise, combining affordability, compliance, and a personalized customer experience.
About MutualAid eXchange
MutualAid eXchange (MAX) and its affiliated insurance companies, based in Overland Park, Kansas, is a member-owned full-service insurance enterprise that provides competitively priced auto, homeowners, farm, business, life and related forms of insurance in most U.S. states and five Canadian provinces. The company was founded upon the faith-based principles of the Mennonite, Brethren and related denominations, and maintains an ongoing commitment to the values of community and compassion.