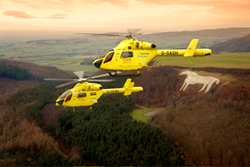 We are delighted that Q8Oils has chosen us as part of its 2014 CSR programme
Leeds, UK (PRWEB UK) 6 March 2014
Flying seven days a week, 365 days a year, the Yorkshire Air Ambulance (YAA) is an independent charity providing a life-saving, rapid-response emergency service to over five million people across Yorkshire. The service covers major cities, motorways and rural and isolated locations in the Yorkshire Dales and North York Moors National Parks.
Commenting on the announcement, YAA Regional Fundraiser, Kerry Garner says: "We are delighted that Q8Oils has chosen us as part of its 2014 CSR programme. Their generosity, like that of our other patrons and supporters, is the lifeblood of the charity, without which we would not be able to provide the service that we are so proud of."
The charity needs to raise nearly £10,000 per day (£3.65 million per year) to keep both of its MD902 Explorer air ambulances maintained and in the air; and Q8Oils has already planned its first fundraising event as part of its efforts. The first event is the 25 mile Yorkshire Three Peaks Challenge which will take place on Saturday 5th April and Q8Oils is inviting staff and their friends and family to take part or make a donation.
Commenting for Q8Oils, country manager Andy Dixon says: "The Yorkshire Air Ambulance receives no direct government funding so we are arranging numerous fundraising events throughout the year to help raise funds from our friends, families, customers and suppliers to ensure that the YAA keeps providing life saving services."
Those interested in supporting Q8Oils' 2014 CSR programme and the Yorkshire Air Ambulance can request sponsorship details by calling Q8Oils on 0113 235 0555 or emailing Marketing(at)Q8Oils(dot)com. Further information on the Three Peaks Challenge can be found at http://www.3peakswalks.co.uk.

295 words
For further information contact:
Naomi Holden, Q8Oils
Knowsthorpe Gate, Leeds, LS9 0NP, UK
Tel: +44 (0)113 235 0555 Fax: +44 (0)113 248 5026
E-mail: Naomi.Holden(at)Q8Oils(dot)com Web: http://www.Q8Oils.co.uk
For press information contact:
Simon Cantillion, Cantillion King Advertising
16 The Cornhill, Stroud, Gloucestershire, GL5 2JT, UK
Tel: +44 (0)1453 755551 Fax: +44 (0)1453 751525
E-mail: simon(at)cka(dot)co.uk Web: http://www.cka.co.uk
Note to Editors:
Q8Oils has a unique, innovative and progressive approach when it comes to producing some of the World's finest quality lubricants. Manufactured in its plant in Leeds, Q8Oils represent the very best and latest in lubricant technology and delivers this direct to customers across the Industrial and Automotive sectors.
For Q8Oils sales phone: +44 (0)113 236 5204 or email: Marketing(at)Q8Oils(dot)com
Q8 Oils offers a comprehensive lubrication solutions range in the following products:
Passenger car engine oils
Commercial vehicle engine oils
Marine engine oils
Outboard engine oils
Motorcycle engine oils
Automotive transmission and axle oils
Universal transmission oils
Gas engine oils
Food grade lubricants and greases
Hydraulic fluids
Plant maintenance oils
Demoulding oils
Quenching oils
Process oils
Neat cutting oils
Neat forming fluids
Soluble metal working fluids
Heat transfer fluids
Greases
Extensive range of ancillary products