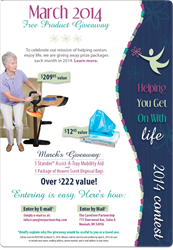 The Stander product is ideal for anyone with limited mobility or impaired balance.
Neenah, Wis. (PRWEB) March 05, 2014
The CareGiver Partnership, a national retailer of incontinence products and other home health care supplies, announces its March "Helping You Get On With Life" sweepstakes includes two prizes: an Assist-A-Tray by Stander and a package of Heaven Scent disposal bags.
"These items are part of our efforts to raise awareness of products and services that help seniors live independently while making caregivers' jobs easier," says Lynn Wilson, Founder of The CareGiver Partnership.
The Assist-A-Tray by Stander is a 2-in-1 mobility handle and tray. The sturdy, ergonomic handle helps a senior safely get in and out of a sitting position. The height-adjustable tray with cup holder and utensil compartment conveniently swivels out of the way to allow full mobility.
"The Stander product is ideal for anyone with limited mobility or impaired balance. In addition to seniors aging in place, we recommend this product to anyone with back pain or who has undergone surgery," says Wilson. "It's also ideal for anyone who just wants a tray nearby for mealtime, crafts or games, using a laptop and more."
Heaven Scent premium scented bags are designed for the discreet disposal of incontinence, feminine hygiene or baby products. With a powder scent to mask unpleasant odors and an opaque design to hide contents, the bags are ideal for stashing in a purse, pocket or glove box. The package of 50 bags is valued at $12.95.
For a chance to win this month's prize package, valued at more than $222, participants need only e-mail info(at)caregiverpartnership(dot)com or mail a short statement explaining why the prize would be useful to him or her or a loved one. The CareGiver Partnership will accept entries for this prize through March 31, 2014, and will notify the drawing winner the first week of April. To learn more about the two easy ways to enter and preview upcoming giveaways, visit The CareGiver Partnership "Helping You Get On With Life" sweepstakes page.
Visit The CareGiver Partnership to try sample products before buying, use the online Incontinence Product Finder tool, download a free fall prevention guide, and access more than 1,500 caregiver resource links and hundreds of articles.
The CareGiver Partnership is a national direct-to-consumer retailer of home healthcare products for incontinence, diabetes, nutrition support and more. In its eighth year of providing products and services that help caregivers and loved ones maintain personal dignity, the company also offers an online library of more than 1,500 family caregiver resources and personal service by experts in caregiving. Call 1-800-985-1353 or visit online at caregiverpartnership.com.