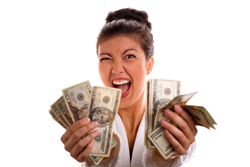 Hollywood, CA (PRWEB) March 04, 2014
Hollywood restaurant owner and Entrepreneur, Tony Toutouni has just announced that he has awarded $10,000.00 to the winner of his first annual "Why I need 10K" contest in where Toutouni had over one thousand people submit their photos to his Instagram user name: TONY22ni. Mr. Toutouni then selected the contestant that he felt most needed the ten thousand dollar prize based on their photo and submission story. The winner was awarded a ten thousand dollar cash prize at a ceremony that was broadcast live via the Internet from Cub TONY22ni, the exclusive lounge that bares the same name as Mr. Toutouni's Instagram user name.
Michelle Lee of van Nuys, California was awarded her prize of ten thousand dollars at gala event held on Sunday night that doubled as an Oscar's after party at Dillion's in Chino Hills, CA.