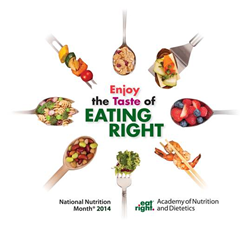 (PRWEB) March 05, 2014
During the month of March, Allegro supports The Academy of Nutrition and Dietetics in celebrating National Nutrition Month®. Allegro encourages local seniors and families to visit the National Nutrition Month® website for resources encouraging them to "Enjoy the Taste of Eating Right," the theme for 2014 http://www.eatright.org. Allegro also invites visitors to come to their community and experience the nutritional dining that residents enjoy daily.
"While social, emotional and health factors play a role in the foods people choose to eat, the foods we enjoy are the ones we eat most. That is why, as part of National Nutrition Month 2014®, the Academy of Nutrition and Dietetics encourages everyone to "Enjoy the Taste of Eating Right."
Each March, the Academy encourages Americans to return to the basics of healthful eating through National Nutrition Month®. This year's theme focuses on combining taste and nutrition to create healthy meals that follow the recommendations of the 2010 Dietary Guidelines for Americans.
"When taste is the most influential factor driving what consumers eat, it is important that we find the balance between choosing the foods we like with those that provide the nutrients we need," said registered dietitian nutritionist and Academy President Dr. Glenna McCollum. "This year's 'Enjoy the Taste of Eating Right' theme reinforces that the two choices are not mutually exclusive."
"The Academy strives to communicate healthful eating messages that emphasize balancing food and beverages within an individual's energy needs, rather than focusing on any one specific food or meal. To this end, it is the Academy's position that improving overall health requires a lifelong commitment to healthful lifestyle behaviors, emphasizing sustainable and enjoyable eating practices and daily physical activity."
"Enjoying the healthy foods we eat and the physical activities we engage in is key to developing a healthy lifestyle we can maintain for years to come," McCollum said.
"Every March, the Academy of Nutrition and Dietetics takes time to strengthen its vision of optimizing the nation's health through food and nutrition," McCollum said. "As registered dietitian nutritionists and dietetic technicians, registered, our members have the ability to translate sound science into helpful nutrition information that people can understand and apply to their everyday lives."
Initiated in 1973 as a week-long event, "National Nutrition Week" became a month-long observance in 1980 in response to growing public interest in nutrition. To commemorate the dedication of registered dietitian nutritionists as the leading advocates for advancing the nutritional status of Americans and people around the world, the second Wednesday of each March is celebrated as "Registered Dietitian Nutritionist Day." This year Registered Dietitian Nutritionist Day will be celebrated March 12.
As part of this public education campaign, the Academy's National Nutrition Month website includes a variety of helpful tips, games, promotional tools and nutrition education resources, all designed to spread the message of good nutrition based on the "Enjoy the Taste of Eating Right" theme.