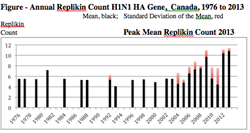 London, UK (PRWEB) March 05, 2014
Replikins Ltd., which in April 2008 predicted the last H1N1 influenza pandemic of 2009, announced today that from the quantitative analysis of all of the 123,112 influenza specimens of H1N1, H2N2, H3N2, and H5N1 in the Pubmed data base, from 1918 to 2013, the Replikin Counts (number of Replikins per 100 amino acids) of the genes of H1N1 and H5N1 have increased beyond the levels of the 2009 pandemic year.
The H1N1 lethality gene in pB1 peaked in 2012, the mean H1N1 Counts in the H1N1 infectivity gene in HA doubled between 2011 and 2013, at p<0.001 (Figure), and H1N1 caused sporadic outbreaks in Mexico, the US, and Canada, all much as before the 2009 pandemic.
The increased possibility of the combination of the infectivity gene of H1N1 (in HA) and the lethality gene of H5N1 (in pB1) is again noted. Synthetic candidate vaccines directed against the specific Replikins in both H1N1 and H5N1 genes are available for testing.
These data have been submitted for peer reviewed publication, and will be presented at the coming World Vaccine Congress March 24-26th, Washington D.C.
Contact: samuel(dot)bogoch(at)replikins(dot)com 646-320-5910