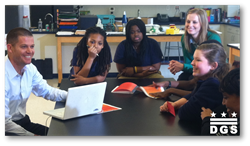 This Challenge is yet another method to educate and encourage energy awareness and conservation, which leads to lifetimes of more green behavior. That is a big part of what the Mayor's Sustainable DC is all about.
Washington, DC (PRWEB) March 05, 2014
Langley Elementary in Northeast DC has won the Sprint to Savings, with approximately a 30 percent reduction in electricity consumption during the three week electricity conservation contest run by the Department of General Services. Of the 28 participating schools in the Challenge, 24 succeeded in reducing their electricity consumption. Their efforts saved over 76,000 kilowatt-hours of electricity—enough to power seven American households for nearly an entire year. The Challenge is a partnership between the DC Government and the US Green Building Council National Capital Region chapter.
Powell Elementary School finished second with a reduction of 18 percent and Anne Beers Elementary School took third place managing a 12.5 percent reduction. Anacostia High School led participating high schools with an impressive savings of over 10 percent. All of the schools in the competition relied upon a dynamic online leaderboard, updated daily with interval electricity data, to track their progress during the competition. The leaderboard has the full list of final results: http://buildingdashboard.net/dc/#/dc.
Beginning on February 10th, participating schools worked with mentors to teach students about energy conservation and climate change, supporting student-led teams in identifying energy conservation measures and effective strategies to reduce consumption on-site—from turning off lights and computers at night to using daylight instead of artificial lighting during the day.
"This Challenge is yet another method to educate and encourage energy awareness and conservation, which leads to lifetimes of more green behavior. That is a big part of what the Mayor's Sustainable DC is all about," said the Department of General Services (DGS) Director Brian J. Hanlon.
From the start, Langley has been very engaged and excelled in conservation efforts such as unplugging smart boards, turning off lights in classrooms when they were not in use and in the hallways, gym, cafeteria and auditorium at night/weekends. "Working with the team at Langley Elementary and the Department of General Services was a powerful and rewarding experience," said Hanna Greene, a Green Schools mentor from the DC Sustainable Energy Utility. Green Team Leader and art teacher, Ms. Amanda Rogers said, "The students and staff really worked together to lower our energy costs in simple ways." Langley Principal, Charlotte Spann, added: "I am truly excited about the energy that was created in our school as we worked together to conserve energy through the Sprint to Savings contest. Contest or not, we will continue to 'Go Green' and conserve energy throughout the entire year!"
The DC Green Schools Challenge features two separate initiatives aimed at reducing DCPS's annual utility costs of nearly $30 million and mitigating environmental impact: the Sprint to Savings and the Innovation Challenge. The upcoming Innovation Challenge empowers students to decide what energy efficiency projects would most benefit their school, developing the projects and submitting them for funding. The winning project(s) will be executed and funded by the Department of General Services.
The Green Schools Challenge leverages the District of Columbia's booming green building industry and builds upon the innovations set forth by DGS, such as providing electricity consumption levels at any given time during the day and pioneering the ability to utilize the results as actionable interval data. The Challenge and other innovative DGS programs are key components of District Government doing its part to reach Mayor Gray's Sustainable DC goal of reducing citywide energy use by 50 percent.
The Department of General Services' Energy and Sustainability Division is creating one of the most efficient and sustainable portfolios of real estate in the United States, ultimately saving DC taxpayers $100M over the next decade. During 2014, the Division's focus is to reduce costs while de-risking and de-carbonizing energy supply, increase recycling rates in DCPS and promoting forward-looking urbanism that improves health outcomes for city residents.
THE DEPARTMENT OF GENERAL SERVICES:
The mission of the Department of General Services (DGS) is to elevate the quality of life for the District with superior construction, first-rate maintenance and expert real estate management. By building and maintaining safe and green state-of-the-art facilities which foster economic growth and elevate educational environments, our trusted and skillful employees create modern and vibrant communities across all of the District of Columbia.