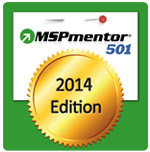 Being named as one of the world's top managed service providers is a tremendous honor and a testament to the hard work and dedication of the C&K team.
Chesapeake, VA (PRWEB) March 06, 2014
C&K Systems, Inc. has surfaced on Nine Lives Media's seventh-annual MSPmentor 501 Global Edition, a distinguished list and report identifying the world's top 501 managed service providers (MSPs). This year's report includes:

MSPmentor 501 Global Edition
MSPmentor 100 Small Business Edition (top MSPs with 10 or fewer employees)
MSPmentor 200 North America Edition
MSPmentor 50 EMEA (Europe, Middle East, Africa) Edition
MSPmentor 25 AANZ (Asia, Australia, New Zealand) Edition
New: In-depth data tracking of per user and per device pricing data.
"Being named as one of the world's top managed service providers is a tremendous honor and a testament to the hard work and dedication of the C&K team," said Kevin Bowden, Founder and CEO of C&K Systems. "We have always been committed to delivering world-class technology solutions and superior service to our clients. This recognition and our continued growth is evidence that we are meeting our clients' expectations while providing the most effective solutions."
The MSPmentor 501 report is based on data from MSPmentor's global online survey, conducted October-December 2013. The MSPmentor 501 report recognizes top managed service providers based on a range of metrics, including annual managed services revenue growth, revenue per employee, managed services offered and customer devices managed.
"MSPmentor congratulates C&K Systems on this unique honor," said Amy Katz, president of Nine Lives Media, a Penton business. "Qualifying for our MSPmentor 501 Global Edition puts C&K Systems in rare company."
MSPs on this year's global 501 list lifted their combined annual recurring revenues $2.61 billion, continuing seven straight years of strong growth. Together, those MSPs now manage more than 700,000 servers, according to Jessica Davis, managing editor, MSPmentor.
MSPmentor, produced by Nine Lives Media, is the ultimate guide to managed services. MSPmentor features the industry's top-ranked blog, research, Channel Expert Hour Webcasts and FastChat videos. It is the number one online media destination for managed service providers in the world.
About C&K Systems
C&K Systems provides superior management and support of IT network-based services, applications and equipment to over 2000 users and more than 650 retail stores throughout the U.S., U.K. and Canada. In addition to providing world-class managed services, C&K offers a comprehensive suite of award winning omni-channel retail solutions and services designed to help small and medium-sized specialty retailers increase profitability and operations efficiency, and enhance their customer's shopping experience.
C&K's products and services include: NCR Counterpoint and Retail Pro point of sale (POS) solutions, mobile POS solutions, digital signage, in-store proximity beacons, integrated eCommerce solutions, custom reporting, custom mobile/web application development, 3rd party systems integration development and world class training—all backed by 24x7 customer support.
About Nine Lives Media
Nine Lives Media, a division of Penton, defines emerging IT media markets and disrupts established IT media markets. The company's IT channel-centric online communities include MSPmentor, The VAR Guy and Talkin' Cloud.
###
If you would like to learn more about C&K Systems and the omni-channel retail solutions they offer, or to schedule an interview with C&K System's CEO Kevin Bowden, please contact Bradley Lail at (757) 482-6343 ext. 345, or email Bradley at blail(at)cksystem(dot)com. If you would like to learn more about Nine Lives Media, please contact Jessica Davis at jessica.davis(at)penton(dot)com.