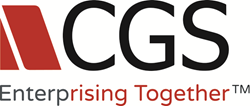 There is a misconception that building a great brand costs a great amount of money.
New York, NY (PRWEB) March 06, 2014
CGS, a leading global provider of technology solutions, announced today the release of a new white paper, "Whose Brand is It Anyway? Ensuring Your Brand is Paramount in a BPO Relationship." The paper was written to help companies assess their outsourced vendor's brand loyalty, maximize brand identification through that vendor, and extend their brand's culture.
"A successful brand reinforces its values and culture with every point of contact – whether that's with your customers, employees, partners or investors," said Tom Christenson, President of Contact Center Services at CGS and author of the paper. "Engaged, loyal and happy customers are repeat customers. Repeat customers become brand ambassadors and are the catalyst for sustainable growth for any successful business and help drive a competitive advantage in today's ultra-competitive, social media driven landscape."
The white paper addresses several noteworthy topics including how to assess a vendor's brand loyalty, extending your brand through the outsourcer, and reconciling your brand with the vendor's.
"There is a misconception that building a great brand costs a great amount of money," says Christenson. "Sure, a Super Bowl ad runs millions of dollars per second but building a brand is more than a catchy phrase, some good music and an animated talking squirrel. Building a brand and engaging customers can start with a single point of contact."
Also included is an exclusive, six-step plan to extend your brand through an outsourcer and the benefits that can be achieved by maximizing brand identification, including an improvement in customer satisfaction by up to 38% and ROI by over 17%.
To download the complete white paper, please visit http://bit.ly/1em63aH.
About CGS
For 30 years, CGS has enabled global enterprises, regional companies and government agencies to drive breakthrough performance through technology and services. Headquartered in New York City, CGS employs more than 5,100 professionals across North America, Latin America, Europe and Asia. With global delivery capabilities, expertise across leading platforms and deep experience in multiple industries, CGS has become the IT partner of choice for thousands of organizations worldwide. CGS delivers a wide array of proprietary and third-party business applications, technology, business services and business process outsourcing solutions, including customer care, technical support and corporate learning and training. For more information, please visit http://www.cgsinc.com and follow us on Twitter at @cgsinc and Facebook at http://www.facebook.com/ComputerGeneratedSolutionsInc.
Contact: marketing(at)cgsinc(dot)com