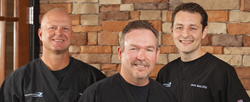 Fort Worth, TX (PRWEB) March 05, 2014
To improve their knowledge and the quality of care that they can offer patients, the professionals from Fort Worth Dental attended the Southwest Dental Conference in Dallas, TX, from January 30 to February 1. During the conference, the Fort Worth dentists had the opportunity to attend classes and hands-on workshops, improving their knowledge of treatments that they provide such as sleep apnea dentistry and dental implants in Fort Worth, TX.
The Southwest Dental Conference, which was held at Kay Bailey Hutchison Convention Center this year, gives thousands of dental professionals from the Southwest a chance to brush up on familiar topics while expanding their knowledge of oral diseases, treatment methods, and new technological advances. Conference attendees have the opportunity to visit exhibits, enroll in up to 24 hours of Continuing Education courses, and earn certifications for the work that they complete during the three-day event. Although 2014 marked the 87th year of the Southwest Dental Conference, there was plenty new for the Fort Worth dentists and other attendees to explore and learn about, since the conference offered over 180 sessions and an all-new educational format called the 360 Experience.
After the conference, the Fort Worth dentists returned to their practice better prepared to offer patients optimal results during common procedures such as placing dental implants. Dental implants are a type of tooth replacement that is set directly into the jawbone. Over time, the implant fuses with the bone, stabilizing bone density levels and securing the implant placement. The prosthetic part of the implant can prevent neighboring teeth from shifting out of place, allowing patients who receive dental implants in Fort Worth, TX, to once again enjoy a full and natural-looking smile.
Patients who need more information on procedures such as gum disease treatment, sleep apnea treatment, and dental implants in Fort Worth, TX, are encouraged to visit the website of Fort Worth Dental. Anyone who needs to request an appointment can do so through the website or by calling the office directly.
About the Practice
Fort Worth Dental is a general practice offering personalized dental care for Fort Worth, TX patients. Dr. Terry M. Zang, Dr. Arthur J. Mund and Dr. Justin Mund are all dedicated to their dental practice, which offers the LANAP® FDA cleared laser procedure for gum disease treatment. Focused on preventative, restorative and cosmetic dentistry, they each have unique attributes for the practice. To learn more about Fort Worth Dental and their services visit their website at http://www.fortworthdental.com and call (817) 900-9470.