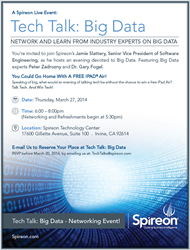 Irvine, California (PRWEB) March 10, 2014
Spireon, the leading provider of Mobile Resource Management (MRM) and business intelligence solutions used by companies to maximize their mobile assets and workforce, will be hosting the first installment of its groundbreaking new Tech Talk series on Thursday, March 27th. The inaugural session will focus on "Big Data" and what it means for technology developers.
"At Spireon, our partners and customers turn to us as thought-leaders in our industry, providing not only best-in-class technology solutions but also leading-edge insight into technology developments that impact our industry," says Spireon CEO Marc Brungger. "Through our Tech Talk series, we will be sharing these insights from our own technology experts as well as recognized experts from outside our organization. Since our solutions are designed to deliver the promise of big data for our customers, we thought this would be the ideal topic to launch our series."
Hosted at Spireon's Corporate Headquarters and Technology Center in Irvine, CA on March 27 from 5:30 pm. – 8 p.m., the Big Data Tech Talk will feature two guest speakers and big-data experts. An independent consultant specializing in big data, software performance, and architecture, guest speaker Peter Zadrozny will be addressing the role of big data in developing new software applications and solutions. Zadrozny will be calling on his experience as a guest lecturer for San Jose State as well as his experience working with executive and technical teams of start-ups and Fortune 500s. A published author and open-source advocate, Zadrozny was instrumental in launching WebLogic's European operations and Sun Microsystem's presence in Mexico.
The Big Data Tech Talks' co-guest speaker is Dr. Gary Fogel, a leading expert and researcher on the use of computational intelligence methods to solve problems in the biomedical sciences. Dr. Fogel has been working with artificial intelligence pioneers Natural Selection Inc. since 1998. In that time, he has been directing his research at biomarker discovery, sequence analysis, drug design, and improved diagnosis. A widely published author in his field, Dr. Fogel is a Fellow of the IEEE and a member of Sigma Xi. He will bring his interesting perspective on big data collection and mining for the biomedical industry to the Tech Talk audience.
Tech Talk attendees will be treated to a complementary dinner and refreshments, as well as the opportunity to win an iPad Air and gift cards. Attendees will also have the unique opportunity to interact with guest speakers and ask questions.
"We are very excited for our first Tech Talk session, and know it will be an informative, engaging and enlightening experience for all who attend," adds Jamie Slattery, Senior Vice President of Spireon's Software Engineering team. "This is the first of many more Tech Talks to come, and we are actively seeking and vetting guest lecturers and technology innovators for our next sessions. We expect a tremendous turn-out for our Tech Talks, not only from our partners and customers but from the technology community at large."
The Big Data Tech Talk will be held on Thursday, March 27, from 5:30 p.m. – 8 p.m. at Spireon's state-of-the art Technology Center, located at 17600 Gillette Avenue, Suite 100, Irvine, CA. To RSVP to Laura Miller at 1-800-557-1449 x 6010 by 3/20/2014 or for more information, contact Spireon at TechTalks(at)spireon(dot)com.
About Spireon
Spireon, Inc., is at the summit of business intelligence and committed to going higher. With its corporate headquarters in Irvine, CA, the company emerged in 2011 as the industry leading Mobile Resource Management (MRM) company as a result of the merger of ProconGPS, Inc. with EnfoTrace and PFS, LLC, the top three providers in the MRM space. Spireon connects companies to their mobile assets and workforce through game changing information platforms, giving them the power to manage actionable business intelligence. Its trusted brands include market share leader GoldStar GPS®, EnfoTrace GPS™, FleetLocate®, VehiclePath™ and LoanPlus CMS™. Inspiring companies to reach new heights with powerful Software-as-a-Service (SaaS) based tools; Spireon provides a sturdy foundation on which to optimize performance.
With leading market positions in the fleet, transportation and automotive telematics markets, Spireon, Inc. specializes in developing strong business relationships with leading companies worldwide, enabling it to offer affordable world-class risk mitigation, mobile resource management and location based services to its customers.
For additional information, please visit Spireon, Inc.'s website http://www.spireon.com/techtalks and Twitter.com/Spireon.