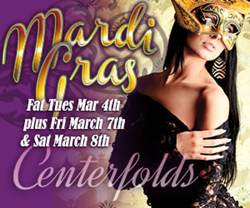 San Francisco, CA (PRWEB) March 05, 2014
Centerfolds, San Francisco's all-nude cabaret, is ready to celebrate Mardi Gras in style. This week, they are inviting customers looking for fun to check out their club and this exciting Mardi Gras event. They are offering tons of enjoyable events, specials and entertainment for the holiday.
The week of events started Tuesday, with a special "Mardi Gras Tuesday" celebration. There were all-nude dances for $40, two-girl shower shows and wet t-shirt contests. The holiday definitely started off on the right foot, and all those in attendance certainly enjoyed the party.
The fun doesn't stop there though; Centerfolds is continuing the party Friday, March 7 and Saturday, March 8, with a "Mardi Gras Weekend – Flash for Cash" event. For $40, guests will receive a wristband that includes entry to both Cosmo and Monroe. Those looking to get a little competitive will find some fun in the beer-chugging and wet t-shirt contests.
Centerfolds is looking forward to continuing their Mardi Gras celebration this weekend and encourages their customers to come on down and join them. Everyone is sure to have a great time. Centerfolds is located at 391 Broadwat St., San Francisco, CA 94133. To learn more about the adult club's Mardi Gras week entertainment, call 415-834-0662 or visit http://centerfoldssf.com/.
About Centerfolds:
Centerfolds is San Francisco's all-nude cabaret, featuring some of the best adult entertainment around. This is an upscale club that is couple-friendly and is the perfect place to host bachelor/bachelorette parties, birthday parties and other events. Centerfolds offers exciting all-nude entertainers, girl-on-girl stage shows, shower shows, a bachelor party suite and VIP rooms. Centerfolds' fun and relaxed atmosphere offers the perfect place to unwind from life's daily stresses and enjoy quality adult entertainment. The club is a part of BSC Management and is open 3 p.m. – 2 a.m. Monday through Thursday and noon – 2 a.m. Friday and Saturday. For more information, visit their website at http://centerfoldssf.com/.