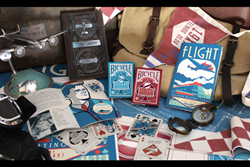 When many are struggling to launch one successful project on the site, Martinez is on pace to complete his fourth.
Ventura, CA (PRWEB) March 07, 2014
Paul Roman Martinez has built up a strong following in the comic book world and now hopes to unite two more genres: fans of historic aviation and the avid playing card collecting community.
Since 2012, Martinez has raised over $70,000 on Kickstarter, the crowd funding site that lets anyone with enough public support produce their dream projects. His self-published, award nominated series of graphic novels, The Adventures of the 19XX, has sold thousands of copies all over the world and gone through multiple printings. In 2011, his love of history and aviation first propelled him into the graphic novel business with the now out-of-print first edition of the opening book in his series. Since then, several more books and a tabletop game have been added to Martinez's stable of successful project launches. When many are struggling to launch one successful project on Kickstarter, Martinez is on pace to complete his fourth.
His new project, a series of playing cards based on the early days of aviation, will serve as an homage to airplanes and airships, and it will feature famous aviators, airplanes, and airships all drawn by Martinez. This time around, his project has the unique benefit of being officially approved by the Charles Lindbergh Estate, who is featured prominently as the king of spades. Martinez plans to produce an Airplane Deck and Airship Deck, which will both be manufactured by the USPCC in the United States. Each deck will carry the familiar Bicycle brand logo. But make no mistake, this project is a labor of love for Martinez, who designed all of the cards and the Flight Logbook deck holder himself. Already, the Flight Decks have reached over 60 percent funding with almost a month left. This qualifies the decks as the fourth highest vintage aviation project on the Kickstarter, but Martinez believes the decks are fully capable of taking the top spot and being the highest funded and delivered vintage aviation project to date.
Kickstarter has showcased other projects related to the earliest days of flight, including the restoration of a WWII era bomber, but none have been able to crack the $50,000 mark. Meanwhile, in the world of custom designed playing cards, several projects have raised over $100,000, and one project passed into even more rarified air with over $500,000 raised. Martinez has the advantage of being a multiple Eisner Nominated Illustrator and has a strong reputation on the site for always delivering. Martinez has planted his flag firmly at the crossroads between aviation and playing card collecting. His hope is that playing card collectors will become fans of vintage aviation and both groups will benefit from a new influx of comic book fans. To follow along with the development of the project, visit The Flight Deck on Kickstarter.