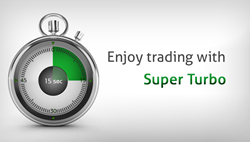 (PRWEB UK) 6 March 2014
Once again TRADOLOGIC changes the binary industry with the brand new feature called Super Turbo. The unique trading tool now allows players to trade within 45 sec., 30 sec., and 15 sec. TRADOLOGIC is the first Binary Options Platform Provider that launches a trading tool with such short time span for selected assets and thus delivers again a dynamic and exciting trading experience.
This feature will allow binary operators to implement one more game to their trading website, offering a wider diversity to their end users. TRADOLOGIC offers a huge advantage to the company's white labels by being the only platform provider to offer Super Turbo trading.
"We are constantly creating new and innovative trading tools and features for the binary option industry that strengthen our position as a leading platform provider. Super Turbo is a great addition to the trading room of any binary option operator as it offers a lively trading and unique user experience", says Ilan Tzorya, CEO of TRADOLOGIC.
The first binary option brand that has Super Turbo available for its clients is Cedar Finance. TRADOLOGIC will launch the feature for Binary Kings on 6th of March, 2014. The beta testing has shown that Super Turbo increases trader satisfaction, delivers outstanding experience and provides good profitability for the operator.
About TRADOLOGIC
TRADOLOGIC is an award-winning software provider for binary options trading to the financial and gaming industry. TRADOLOGIC's team pioneers in the binary option trading field and possesses a first-hand insight and deep knowledge about the financial trading industry. Currently, the company offers its clients a variety of products including option types, trading tools, advanced features, integration solutions and services that deliver outstanding trading experience and optimized user value.