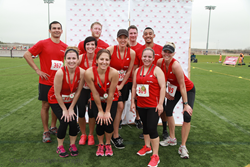 "The approach Fit Company took through getting local area leaders to participant in an enjoyable event and also give them the opportunity to model fitness excellence in their respective work places was fantastic." - Mike Fransen, Fittest Exec contender
Houston, TX (PRWEB) March 08, 2014
On February 23rd, 2014 a group of business leaders in the Greater Houston Area took part in the Fit Company Challenge, a corporate fitness event hosted by the Fit Company Institute providing area companies and business leaders an opportunity to show the importance of living a fit and healthy lifestyle. Participants ranged in ages from professionals in their early 20's to executives in their late 50's and competed in categories for Fittest Executive, Entrepreneur, Doctor, Lawyer, and the coveted Fittest Company award.
"I've participated in many races and competitions that focus solely on the individual but the unique approach that Fit Company took through getting local area leaders to participate in an enjoyable event and also give them the opportunity to model fitness excellence in their respective work places was fantastic and hopefully a sign of a growing trend." Said Mike Fransen, VP & Managing Director at Parkway Properties and Fittest Exec contender, "the challenge managed to strike a great balance between tough enough to make you proud to say you finished, but just manageable enough to be able to finish, although I'm hurting!"
Participants were selected through an invite-only process with certain criteria met for each leader and company to qualify to participate. In Houston's inaugural event, over 60 companies were represented at the challenge including company teams that competed for the title of Fittest Company in Houston with Noble Energy finishing in first place. "The Fit Company Challenge gave us a fitness goal to work towards and pushed us out of our comfort zones to do something that many of us were unsure about," says Jamie Pittman, team captain for Noble Energy, "it was a great experience from a fitness perspective but also from a company team-building standpoint. We look forward to defending our title in 2015!"
With the help of over 30 volunteers testing the contenders, participants sweated their way through three fitness courses challenging their strength, conditioning, power, agility, and ending with a test of endurance in order to show their companies that they practice what they preach. Participants used their involvement to bring out company team members, and family members to cheer them on and run with them during their 5k which was the last course of the challenge.
The challenge was held at the Houston Dynamo Amateur Sports Park, and a portion of the proceeds benefitted the local Trotter Family YMCA.
The following is a list of the top finishers in Houston that participated in the 2014 Fit Company Challenge:
Fit Company Fittest Awards
Fittest Company:
1. Noble Energy
2. Dr. Heather Brown Orthodontics
3. Tudor, Pickering, Holt & Co.
4. HCSS
Fittest Executive – Female:
1. Lorie Clements, 3 Men Movers
2. Julie Bodine, ValvTechnologies
3. Marianne Thai, Walker Elliott, LP
Fittest Executive – Male:
1. Stuart Page, Glori Energy
2. Arthur Langham, Two Sigma Investments
3. Jeff Higgins, Lockton Companies
Fittest Entrepreneur – Female:
1. Esti Arriaga, Esti's Best
2. Mai Phan, MAI GEAR Fitness Designer Wear
3. Kayla Hensley, DandeSocial Media
Fittest Entrepreneur – Male:
1. Bryan Hassin, Smart Office Energy Solutions
2. Keith Davis, Jr., K. Jerrold Enterprises, Inc.
3. Sam McGee, Avondale Wealth Management
Fittest Doctor – Female:
1. Heather Brown, Dr. Heather Brown Orthodontics
2. Lisa Patel, Precision Chiropractic
3. Adrienne Williams, Artistic Works Dentistry
Fittest Doctor – Male:
1. Andres Villasenor, District Dental
2. Fernando Morales, CST Wellness Center
3. Thomas Kolenko, Freedom Chiropractic & Rehab
Fittest Lawyer – Female:
1. Nicole Voyles, Jenkins & Kamin, LLP
2. Maidie Ryan, Ascend Performance Materials
Fittest Lawyer – Male:
1. Sean McChristian, Porter Hedges LLP
2. Chris Watt, Reed Smith, LLP
3. Zach Wolfe, Zach Wolfe Law Firm, PLLC
Fittest Professional – Female:
1. Patti Sandel, Noble Energy
2. Rebecca Romero, Dr. Heather Brown Orthodontics
3. Korie Robertson, Noble Energy
Fittest Professional – Male:
1. Ryan Swartz, HCSS
2. Quentin Batchellor, HCSS
3. Eric Brown, Dr. Heather Brown Orthodontics
Fittest Over 50 - Male:
1. Stuart Page, Glori Energy
2. Jeff Higgins, Lockton Companies
3. Scott Pappas, Morgan Stanley
Most Influential Award – Given to the contenders that received the most social media likes on their profile pages.
Female - Amanda Copperthite, Shell
Male - Fernando Morales, CST Wellness Center
Most Inspirational Award – Selected by the Fit Company event team based on the contender's performance during the challenge, their online profile page, and their promotion of fitness and health to the local community.
Female – Katie Mehnert, BP
Male – Earl Hersh, Capstone Associated Services, Ltd.