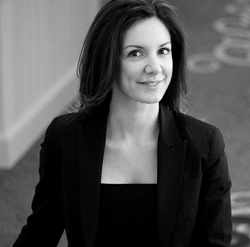 Kat Cole is an incredible role model for business leaders in any industry, particularly for women.
Washington, DC (PRWEB) March 06, 2014
Kat Cole, the 35-year-old president of the cinnamon roll brand, Cinnabon, has been confirmed as a keynote speaker for the 2014 annual conference of WTS International, the association for the professional advancement of women in transportation that will take place May 14 - 16, 2014, in Portland, Oregon.
"Kat Cole is an incredible role model for business leaders in any industry, particularly for women. What she has done for the companies she's worked for since a young age and the odds she's defied as a woman in business make her story and the lessons she's learned universally appealing," said Margaret Mullins, director of the WTS Annual Conference. "Ms. Cole's presentation is sure to resonate with each of the conference attendees, both women and men, from those just beginning a transportation career to our executive-level members."
"WTS helps its members develop professionally and climb through the ranks of the transportation industry in both the public and private sectors, and we take pride in knowing that we are helping to build the world's infrastructure through the advancement of women, and shaping future generations of transportation leaders," said Marcia Ferranto, WTS International's President and CEO. "Ms. Cole's leadership in business is representative of WTS International's guiding principles that are the tenants of how we work to achieve our goals; WTS is committed to ethical leadership, integrity and respect for all. The WTS spirit of community, inclusiveness, and mutual support is one of our greatest assets."
The Annual Conference is WTS International's flagship event. It attracts corporate and governmental industry leaders worldwide, including executives, CEOs, government administrators, and leading transportation authorities. Attendees at the conference gather to network, discuss the state of the world's transportation infrastructure, strategize on advancing professionally through glass ceilings, and explore the local city's successful municipal and private transportation and transit projects. For the full duration of this year's Portland conference, private corporations, public agencies and government officials invested in every transportation mode will exhibit, present, learn, and network.
Kat Cole is the president of Cinnabon, Inc., where she is accountable for leading, evolving, and building the team and multi-channel brand. Her story is often shared for inspiration as she moved up from working as a hostess at 17 years old in restaurants to traveling globally to help open new franchises. At the age of 19, she dropped out of college, advanced to various management and leadership positions, and at 26 became a Vice President at Hooters making her one of the youngest executives in the hospitality industry.
Cole's personal story, business approach and perspective on leadership has been the subject of feature articles in The Wall Street Journal, Forbes, Fortune, and many other business publications and she has been a featured guest on CBS, CNN, CNBC, MSNBC and more. She was recently featured on the show Undercover Boss and was named one of Fortune's "40 under 40." She's a speaker and consultant on leadership development, women in business, change management, and brand innovation and growth, and she is widely known for legacy business-model innovation, building brands, humanitarian work in the U.S. and Eastern Africa and mentorship and development of emerging leaders.
For more information on the 2014 Annual WTS Conference, visit http://www.WTSinternational.org or contact Margaret Mullins, Operations Director, at 202-955-5085.
***
WTS International, headquartered in Washington, DC, is an international organization dedicated to building the future of transportation through the global advancement of women in the transportation industry. WTS seeks to attract, retain, and advance women through its professional programs, networking opportunities, and unparalleled access to industry and government leaders. More information can be found at http://www.WTSinternational.org.