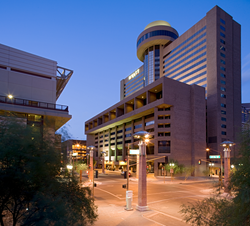 At Hyatt, we strive to make a difference in the lives we touch everyday, and so do the staff and volunteers of Autism Speaks.
Phoenix, AZ (PRWEB) March 06, 2014
Hyatt Regency Phoenix will team up to host "Over the Edge with Autism Speaks," in downtown Phoenix on Friday, March 7th. An estimated 50 participants from the valley will rappel 23 stories from the rooftop of Hyatt Regency Phoenix starting at 8am, in an effort to raise awareness and funds to benefit the local chapter of Autism Speaks.
Hyatt Regency Phoenix's General Manager, Tom Delaney, along with other hotel associates will rappel for the cause on Friday, March 7th. "We are proud and pleased to work in partnership with Autism Speaks and Over the Edge. At Hyatt, we strive to make a difference in the lives we touch everyday, and so do the staff and volunteers of Autism Speaks," said Tom Delaney, General Manager, Hyatt Regency Phoenix. "We hope that as many members of our community come to downtown on Friday and join in the event and planned festivities," Delaney continued.
Festivities on March 7th from 8:00am –5:00pm include a street fair located on Adams Street. A barbeque lunch will be available for purchase at Hyatt Regency Phoenix's Networks Bar & Grill, located on 2nd and Adams streets. Plus, local radio personality Lady La from 101.5fm, the Arizona Diamondbacks Baxter, San Francisco Giants mascot Lou Seal and Sidewinder along with a live DJ , will be entertaining guests throughout the day. A rock-climbing wall will be available for individuals to scale, climb and conquer.
For more information about Hyatt Regency Phoenix, visit: http://www.phoenix.hyatt.com or call: 602-252-1234.
About Hyatt Regency Phoenix
Hyatt Regency Phoenix is steps away from Chase Field, home of the Diamondbacks, US Airways Arena, home of the Phoenix Suns, Comerica Theater, CityScape shopping and dining, Arizona Science Center and the Heard Museum. With 693 guestrooms and suites, this southwest urban downtown hotel is minutes away from Phoenix Sky Harbor International Airport, premier golf courses and shopping centers, Phoenix Zoo, Desert Botanical Gardens and other attractions. The hotel features 48,000 square feet of indoor and outdoor function space, including the 10,000 square-foot Regency Ballroom and 32 meeting rooms, an outdoor pool and whirlpool and four dining experiences. Reservations for Hyatt Regency Phoenix can be made by calling (602)-252-1234 or visiting phoenix.hyatt.com.
About Autism Speaks
Autism Speaks is the world's leading autism science and advocacy organization. It is dedicated to funding research into the causes, prevention, treatments and a cure for autism; increasing awareness of autism spectrum disorders; and advocating for the needs of individuals with autism and their families.
# # #