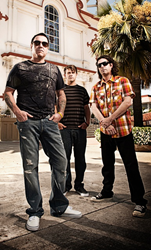 "This year's BASH is perfectly themed to recognize all the true 'superheroes' that have continuously supported our mission in the fight against ALS," said Nieto.
San Diego (PRWEB) March 06, 2014
Guests attending the 9th annual BASH for Augie's Quest on Friday, March 14 at the San Diego Marriott Marquis and Marina will use their "super powers" to raise funds to help speed lifesaving research seeking treatments and a cure for ALS (amyotrophic lateral sclerosis, or Lou Gehrig's disease).
The 2014 superhero-themed BASH, presented by the International Health, Racquet & Sportsclub Association (IHRSA), will be the largest ever, bringing more than 1,200 local business and civic leaders and fitness industry notables together in support of Augie's Quest. An aggressive cure-driven ALS research initiative, Augie's Quest is named for philanthropist and fitness industry pioneer Augie Nieto, who's been fighting the disease since his diagnosis in 2005.
"This year's BASH is perfectly themed to recognize all the true 'superheroes' that have continuously supported our mission in the fight against ALS," said Nieto. "The support we receive and funds raised not only help advance our knowledge of this disease, but bring us that much closer to knocking out ALS once and for all."
BASH guests will enjoy a night complete with fine dining and live and silent auctions where they will have the chance to bid on unique items, including top of the line fitness equipment, amazing getaways and unique experiences, including VIP tickets to the 2014 MTV Video Music Awards, and much more. Visit http://bidpal.net/aqbash to view all auction items.
The event will be capped by an unforgettable live performance from popular rock band Smash Mouth. Former Entertainment Tonight correspondent and longtime MDA friend Jann Carl will serve as emcee for the evening.
Additional major sponsors for the 2014 BASH include: The Atlantic Club, Zumba®, iClubs, Lifetime Fitness, Hemelgarn Racing, Octane Fitness, Planet Fitness and Newtown Athletic Club.
The BASH, inspired by Nieto and his wife, Lynne, raised more than $1.6 million in 2013. To date, Augie's Quest has raised more than $40 million for ALS research.
Tickets can be purchased by visiting the BASH for Augie's Quest website, or by emailing gsimoneaux(at)mdausa(dot)org for more information. The cocktail reception begins at 6 p.m., with the dinner and entertainment starting at 7:30 p.m.
About Augie's Quest
Augie's Quest (augiesquest.org), MDA's ALS research initiative, is an aggressive, cure-driven effort singularly focused on finding treatments and a cure for ALS. The devastating disease affects more than 30,000 Americans.
Fitness pioneer Augie Nieto started Augie's Quest in conjunction with MDA's ALS Division. Nieto is co-founder and former president of Life Fitness of Chicago, and chairman of Octane Fitness. Nieto received a diagnosis of ALS in March 2005.
About ALS
ALS (also known as Lou Gehrig's disease) attacks the nerve cells that control muscles, ultimately resulting in paralysis of all voluntary muscles, including those used for breathing. Average life expectancy for people with the disease is three to five years after diagnosis.
About MDA
The Muscular Dystrophy Association is the world's leading nonprofit health agency dedicated to finding treatments and cures for muscular dystrophy, amyotrophic lateral sclerosis (ALS) and other neuromuscular diseases. It does so by funding worldwide research; by providing comprehensive health care services and support to MDA families nationwide; and by rallying communities to fight back through advocacy, fundraising and local engagement. Visit mda.org and follow at facebook.com/MDAnational and @MDAnews.