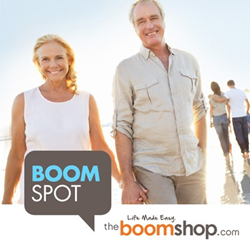 "We believe Boomers are looking for a destination that focuses on them," said Dexter Jasper, Chief Operating Officer of the BoomShop. "Despite the statistics, they aren't getting as much attention online as Millennials or Gen Xers."
Edgewater, NJ (PRWEB) March 11, 2014
theBoomShop.com, an online retailer catering to the 50+ set, launched last year to offer Baby Boomers a range of carefully selected products for the home, health and wellness, and travel and lifestyle. The retailer now introduces the BoomSpot, a blog that welcomes Boomers looking to find tips, information and advice specific to their stage in life, as well as a community that allows them to connect and share with other Boomers.
Contrary to popular belief, Baby Boomers are the most tech-happy generation in the USA, making up 40% of the market for technology and spending more online than any other demographic. "We believe Boomers are looking for a destination that focuses on them," said Dexter Jasper, Chief Operating Officer of the BoomShop. "Despite the statistics, they aren't getting as much attention online as Millennials or Gen Xers."
The BoomSpot helps fill this gap, expanding the BoomShop beyond its retail roots and transforming it into a lifestyle and community destination. Here Boomers can find information specific to their interests and issues, travel and fitness suggestions that help them stay active and engaged, and tips on how they can keep learning and growing. Visitors are invited to join the online community by commenting on posts and connecting on the BoomShop Facebook page to share their own wisdom, advice and experience.
Contributors to the blog include staff, guest bloggers and other experts, including the clinical nutritionist and metabolic specialist Peta Cohen, M.S., R.D., who recently began blogging exclusively for the BoomSpot. An expert in helping people maintain their wellness, happiness and vitality as they mature, she gives practical lifestyle and nutrition tips to help Boomers start improving their health right now. In April, visitors can look forward to reading topics about travel and Spring cleaning, as well as Peta's advice on how to detox the body in the new season. Here's what to expect:

Spring Clean Your Body: Detoxifying Your Body
Our Favorite Healthy Easter & Passover Recipes
Healthy Spring Cleaning: Detox Your Home with Homemade Cleaning Products
Planning Budget-Friendly Vacations with Share Sites Like Airbnb & Relay Rides
About the BoomShop
theBoomShop.com launched in 2013 when its founders realized that there were many online retailers that catered to the young and old, but none that catered to the Boomers in between. The BoomShop team uses a rigorous review and selection process to choose its range of products, and highlights the ways in which Boomers can benefit from them. It features a curated selection from brands like Kuhn Rikon, OXO, Foster Grant, Sabi and Proform, and recently added products from Insteon, Gaiam and EveryManJack.