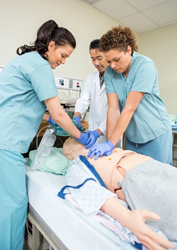 FAYETTEVILLE, GA (PRWEB) March 07, 2014
Synensis announced today Richard Stone, MS was the Keynote Speaker at the Laerdal Regional Simulation User Network Conference in Jacksonville, Florida. The conference focused on reducing risk and improving patient safety through simulation. Mr. Stone's presentation focused on a holistic approach to reducing preventable patient harm and featured two approaches to simulation. The first approach featured high fidelity simulation in an Obstetrics setting and showcased Synensis' partnership with the North Carolina Virginia Hospital Engagement Network which included the design, development and delivery of an evidence-based, customized teamwork simulation training curricula for 36 participating hospitals across North Carolina and Virginia. The second approach featured low fidelity simulation using the StoryCare® system which leverages the power of story to create impactful team-based learning simulations to produce tangible results.
"Synensis is honored to present at the Laerdal conference. Laerdal is dedicated to saving lives which aligns with our mission. Following the conference, participants are able to immediately use the tools, methods, and strategies provided to easily implement rapid cycle improvement and reduce patient harm," states Richard Stone, Synensis Chief Innovation Officer.
About Synensis:
At Synensis, we believe that by creating healthier organizations, we can improve the quality of healthcare around the world, helping save thousands of lives each year. High functioning and knowledgeable leaders and teams are at the heart of a healthy organization. That's where we start, providing the tools, knowledge, coaching, and training to heighten the interpersonal effectiveness of every member of the clinical and non-clinical teams.
By helping healthcare systems with structure and direction, we position them to be leaders for this new era in healthcare delivery. We are advocates for this transformation in healthcare – because we know that healthier organizations produce healthier outcomes and ultimately, healthier patients.
About Laerdal:
Laerdal Medical, one of the world's leading providers of healthcare solutions, is dedicated to helping same lives. Laerdal serves healthcare providers and educators with products and services for Basic Life Support, Advanced Life Support, Simulation, Airway Management, Immobilization, Patient Care, Self-directed learning and Medical Education.
Media Contact:
Richard Stone, MS Chief Innovation Officer Phone: (678) 369-6317 • Email: rstone(at)synensishealth(dot)com • Web: http://www.synensishealth.com