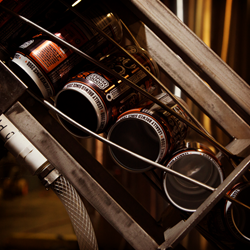 Birmingham, AL (PRWEB) March 07, 2014
One of Good People Brewing Company's most popular beers is now available in cans, and the craft brewer is promoting the new package with a web video featured on YouTube.
While Good People fans have enjoyed Coffee Oatmeal Stout, or COS, on tap since 2008, the brew now joins Good People's other 'Ales from the Heart of Dixie,' Pale Ale, IPA, Brown Ale and Snakehandler Double IPA, on retail shelves.
COS was rated in the 'Top 10 Beers in the South' by Beer Advocate with a 94% rating and has a 95% rating on RateBeer.com.
According to Michael Sellers, owner of Good People, COS is one of the brewery's most requested beers. With an alcohol content of 5.7 percent, COS is made with coffee from Octane Coffee Company, a coffee roaster and retailer with two locations in Birmingham.
View the video at https://www.youtube.com/watch?v=6tKHbhoYRP0.
The can design and promotional video were created by Lewis Communications of Birmingham, Ala.
The video features the song "Coffee House Blues" by legendary bluesman Lightnin' Hopkins.
###
Good People Brewing Company was founded on July 4th, 2008 in Birmingham, Alabama by two friends with a love of drinking and brewing great beer. In addition to brewing five year round "Ales from the Heart of Dixie," Good People also brews four seasonal beers and their highly anticipated Bearded Reserve. Good People beers can be found in finer bars, restaurants, grocery, and package stores across Alabama and other select markets across the South.
For more information, visit http://www.goodpeoplebrewing.com.