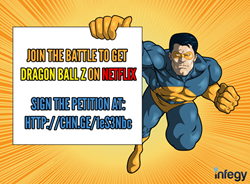 Taking into account the expressed demand and significant amount of piracy, bringing Dragon Ball Z to Netflix should prove a win for fans, Netflix, and FUNimation.
KANSAS CITY, MO. (PRWEB) March 10, 2014
Recognizing an overwhelming amount of consumer demand, social media monitoring company Infegy (http://infegy.com) has launched a petition calling on Netflix and FUNimation to work together to add Dragon Ball Z to Netflix's catalog. Introduced on March 4, 2014, the petition (http://chn.ge/1eS3Nbc) amassed more than 1,000 signatures within the first ten hours and continues to pick up supporters.
The decision to create the petition comes in response to nearly 300,000 posts on social media in the last year, 872,000 indexed pages on Google, and more than 3,000 unique visitors to Infegy's blog post that identified the emerging demand for the popular Japanese cartoon series to be added to Netflix.
For Infegy, what started as merely an interesting blog post snowballed into something much larger, and has caused the company to take a closer look at the situation. Along with an extraordinary number of conversations expressing the desire to watch Dragon Ball Z on Netflix, there have also been a surprisingly large number of conversations created about pirating the show and streaming it from sources that lack the legal authorization to do so.
In reference to illegally downloading the show, there have been nearly 280,000 discussions online over the last three years directly mentioning the practice. Realistically, these conversations only represent a small portion of the activity, as the majority of people who engage in this behavior likely do not broadcast it.
Justin Graves, Infegy's CEO, stated, "Infegy does not stand to gain from Dragon Ball Z being added to Netflix, but is facilitating the petition out of the company's passion for using data to drive better decision making. It is obvious that there is significant demand for the show to be added to Netflix, while at the same time a large amount of illegal downloading taking place. From our perspective, adding Dragon Ball Z to Netflix would be a win for existing fans, a win for Netflix in their ability to retain and attract new users, and a win for FUNimation to grow their fan base through access to Netflix's millions of users while also capturing licensing revenue."
The petition can be found at: https://www.change.org/petitions/jill-hilton-add-dragon-ball-z-to-netflix
About Infegy and Social Radar
Since 2007, Infegy's cloud-based technologies have been transforming huge volumes of dialog and commentary into valuable consumer insights. The company's flagship product, Social Radar, is a social media intelligence platform that enables true understanding of consumers in the social landscape. It goes far beyond simply counting to giving a deep understanding of why. Social Radar is powered by algorithms providing accurate and in-depth measures such as contextual sentiment, passion, topic extraction, thematic categorization, headline generation and more. For more information, visit: http://infegy.com