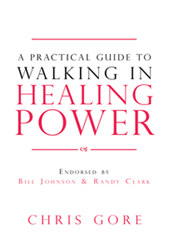 Shippensburg, PA (PRWEB) March 25, 2014
Director of Healing Ministries at Bethel Church in Redding, Ca, Chris Gore, teamed up with Destiny Image again to release the companion manual of the book, "Walking in Supernatural Healing Power."
In "A Practical Guide to Walking in Healing Power," Gore demystifies God's supernatural power, showing how to be effectively trained, equipped and activated into a lifestyle of walking in healing and miracles. This manual is ideal for small groups and classes who seek a lifestyle of walking in healing and miracles.
By going through these sessions, the reader will learn how to:

Build a foundation for healing by knowing God's character—He is good;
Overcome doubts and offense—Roadblocks to walking in healing power;
Be encouraged by reading exciting testimonies of God's power at work—In everyday life;
Rely on God's grace to accomplish the supernatural.
Gore was a Pastor in New Zealand before coming to Bethel where he graduated from Bethel School of Supernatural Ministry. He is currently the Director of Healing Ministries. While having an unquenchable hunger for God's presence, Gore's passion is to see the church walk in a kingdom mindset and see ordinary saints equipped to walk in extraordinary exploits by releasing the kingdom through healing and miracles. His heart is to see churches, cities and nations transformed.
Interviews, review copies and giveaway copies are available upon request.
Destiny Image, located in Shippensburg, Pa, was founded in 1983 by Pastor Don Nori, Sr. It seeks to accurately represent authors who have a call to share God's present word to His people and to make these authors easily accessible to the Christian body around the world in every form of media possible.
For Press Inquiries, Interviews and Review Copies:
Kristen Adams
(717) 532-3040, Ext. 135
kadams(at)norimediagroup(dot)com