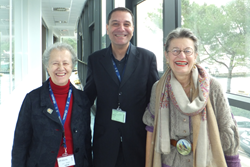 The Winter College included 105 students and 22 faculty, with the theme Fundamentals of Photonics: Theory, Devices, and Applications.
Trieste, Italy, and Bellingham, Washington, USA (PRWEB) March 09, 2014
Topics including electromagnetic optics and integrated optics with emphasis spanning research to technology transfer and applications in biomedicine, computing, and renewable energy occupied students and faculty from 45 countries at the recent 2014 Winter College on Optics.
The college was held 10-21 February at the Abdus Salam International Centre for Theoretical Physics (ICTP) in Trieste, Italy. SPIE, the international society for optics and photonics, is a co-sponsor of the annual event, along with the International Commission for Optics (ICO) and several other organizations.
The Winter College included 105 students and 22 faculty, and followed the theme "Fundamentals of Photonics: Theory, Device, and Applications." Directors were Maria Luisa Calvo (Universidad Complutense de Madrid), Lorenzo Pavesi (Universita degli studi di Trento), Pavel Cheben (National Research Council of Canada), and Luis Ponce (Instituto Politécnico Nacional Unidad Altamira).
Main topics covered by faculty included:

Fundamental of photonics, electromagnetic optics, waveguides theory
Integrated optics, photonics circuits
Computational methods for photonic devices design and characterization
Waveguide platforms and optoelectronic circuits
Technology transfer
Photonics in biomedicine and renewable energy
The Winter College LAMP (Laser, Atomic and Molecular Physics) program provides participants with an opportunity to present their work in poster form or as a short oral presentation, with Best Paper prizes awarded by SPIE.
SPIE Past President Katarina Svanberg the awards on behalf of SPIE, to:

First prize, Aminat Oyiza Suleiman, Stellenbosch University, for "Observation of structural dynamics of 1T-TiSe2 using femtosecond electron diffraction"
Second prize, Dainius Virganavicius, Kaunas University of Technology, for "Formation of regular structures employing holographic lithography technique"
Third prize, Nelson Alonso Correa Rojas, Universidad Nacional Sede Medellín, for "Multifunctional optical tweezers system"
Fourth prize, Nithyanandan Kanagaraj, Pondicherry University, for "A colloquium on the ultrashort nonlinear pulse propagation through optical fibers: modulational instability and supercontinuum generation."
Svanberg also congratulated University of Carthage professor Mourad Zghal, who is among 76 new Fellows of SPIE named in 2014, during the awards presentation.
The 2014 ICO/ICTP Gallieno Denardo Prize recognizing young researchers from developing countries was awarded to two recipients:

María Florencia Pascual Winter, Instituto de Nanociencia y Nanotecnología-Centro Atómico Bariloche (INN-CAB)
John Fredy Barrera Ramírez, Instituto de Física Universidad de Antioquia, Medellín; also a junior associate at the ICTP.
Svanberg and SPIE Past President María Yzuel (Universidad Autónoma de Barcelona) represented SPIE at a meeting on 18 February of the Trieste System Optical Sciences and Applications (TSOSA) Advisory Group, which advises on the coordination of ICTP activities in optics and photonics.
In addition to the annual Winter College on Optics, SPIE provides $30,000 annually to support an optics staff position at ICTP.
In conjunction with ICTP, SPIE provides free SPIE Digital Library access in participating countries through the eJDS (eJournals Delivery Service) program. Articles from scientific literature, primarily in physics and mathematics, are provided to individual scientists.
SPIE helps to fund a laboratory available to participants from developing nations pursuing novel research. The lab is housed at the Istituto Nazionale di Fisica Nuclear (INFN) and run in collaboration with the Institute for Nanoelectronics, Technische Universität München. In 2013, work in the SPIE Anchor Research in Optics Program included projects in quantum cascade lasers and optical tweezers for applications in the physical and life sciences.
About SPIE
SPIE is the international society for optics and photonics, a not-for-profit organization founded in 1955 to advance light-based technologies. The Society serves nearly 235,000 constituents from approximately 155 countries, offering conferences, continuing education, books, journals, and a digital library in support of interdisciplinary information exchange, professional networking, and patent precedent. SPIE provided $3.2 million in support of education and outreach programs in 2013.