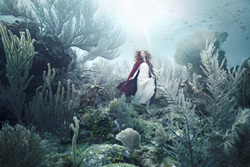 Bangkok, Thailand (PRWEB) March 11, 2014
Plunge into the strange, surreal and mysterious world of award-winning visual artist Andreas Franke and experience his photographic Phantasy Fairytale underwater art exhibition at Huvafen Fushi and NIYAMA in the Maldives. The exhibition can be viewed from now until the end of May 2014 and is part of the Per AQUUM Dream Calendar of events. Each photographic piece has been submerged in the Indian Ocean and can be seen from inside the underwater music club Subsix at NIYAMA and inside the underwater LIME spa at Huvafen Fushi. Guests can also purchase the art and take a piece of the Indian Ocean home with them.
The exhibition magically combines photography, nautical exploration and digital mastery to produce compelling underwater dream worlds where Western fairytale characters are creatively superimposed against the backdrop of the Indian Ocean. Each photographic art piece evokes a feeling of folklore and magic with Snow White, Little Red Riding Hood and Star Money exhibiting at both NIYAMA and Huvafen Fushi, while the Snow Queen features exclusively at NIYAMA and The Last Unicorn features exclusively at Huvafen Fushi.
Submerged in an underwater exhibition, each piece is sealed with Plexiglas in stainless steel frames and blurs the boundaries between reality and fantasy, with saltwater and algae adding the final artistic touches. The size of each piece at NIYAMA is 150 cm x 110 cm with a selling price of US$15,000 each, while at Huvafen Fushi the size of each piece is 110 cm x 73.5 cm with a selling price of US$12,000 each. Same size reprints can also be purchased with prices starting from US$4,800 per piece. A percentage of proceeds from purchases will be donated to Per AQUUM's Coral Regeneration Program.
Committed to breaking boundaries, this Per AQUUM and Andreas Franke collaboration spins the typical photographic art exhibition on its head giving the world an imaginative interpretation of underwater life.
Sink into the Phantasy Fairytale four night package at Huvafen Fushi and view this exclusive underwater exhibition from inside LIME Spa whilst enjoying a manicure or pedicure. Explore each suspended underwater piece in its true watery environment as the underwater resort space adds yet another layer of intrigue. Come back at night and view them in a different light during SpaQuarium with the marine biologist, then complete your four night stay by adopting a coral. Combine with the Phantasy Fairytale four night package at NIYAMA and receive complimentary combined airport speedboat transfers to Huvafen Fushi.
At NIYAMA, dance the night away as each Phantasy Fairytale character draws you into an enchanting, atmospheric tale of magic, mystery and make-believe. View the exhibition from inside underwater music club Subsix with a bottle of champagne and canapés. Spend a morning with the marine biologist learning about the beautiful ecosystem of the Indian Ocean then put your knowledge to the test with a snorkelling trip to a deserted castaway island nearby.
The four-night Phantasy Fairytale package at Huvafen Fushi starts from USD1157+++ per room per night based on two people sharing a Beach Bungalow with plunge Pool. To book please email reservations(at)huvafenfushi(dot)com call, +960 66 44 222 or visit http://huvafenfushi.peraquum.com/promotions/Phantasy-Fairytale-Come-True/.
The four night Phantasy Fairytale package at NIYAMA starts from USD883+++ per room per night based on two people sharing a Beach Studio. To book please email reservations(at)niyama(dot)com, call +960 67 62 828 visit http://niyama.peraquum.com/promotions/Phantasy-Fairytale-Come-True.
Note to Editors:
Per AQUUM Retreats • Resorts • Residences offers a different kind of ethos: one that is passionate, visionary, imaginative and naturally modern. The architecture and design of each project is inspired by the individual beauty of the property's host culture, while development is based on principles of realism, sustainability and responsibility. Renowned for creating bold, imaginative spaces and signature attention to detail the Per AQUUM name has built significant brand value within the top echelons of the travel industry. The current portfolio includes Huvafen Fushi and NIYAMA in the Maldives and Desert Palm in Dubai. In 2013 Bangkok-based Minor Hotel Group (MHG) acquired a 50 percent stake in Per AQUUM. MHG is a hotel owner, operator and investor with a portfolio of almost 13,000 rooms across more than 100 hotels, resorts, resorts and serviced suites under the Anantara, AVANI, Per AQUUM, Oaks, Elewana, Marriott, Four Seasons, St. Regis and Minor International brands.
About Andreas Franke:
Andreas Franke is in the business for more than twenty years. Lürzer's Archive named him among the world's "200 Best Photographers". He has worked for renowned brands such as Ben & Jerry's, The Coca-Cola Company, Ford, General Electric, Gillette, Heineken, Nike, Visa and Wrigley's. His still life imagery and surreal effects are famous. In his pictures every little detail is planned precisely. There is no space left for fortuity. Andreas Franke is a traveler. He travels through the world and between the worlds. His job and his passion for diving frequently take him across continents and countries. In his pictures, Franke blends the borderlines between fantasy and real life.