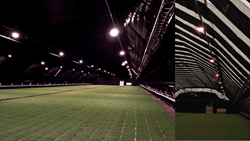 (PRWEB) March 12, 2014
Svenska Skogsplantor AB, a leading Swedish company in the forest industry, has installed Valoya wide spectrum LED lights in two of their production greenhouses in Hallsberg, Sweden. The Valoya wide spectrum lights provides a maintenance free, energy efficient alternative to traditional high pressure sodium or red/blue LED lighting.
The Valoya AP67 spectrum provides the light required for the tree plants during the dark winter months with optimal energy consumption. The spectrum also offers a good working light providing lighting in the greenhouse allowing accurate quality control and pleasant working conditions.